With so many solar panel manufacturers, deciding which brand to install with your solar energy system can be difficult.
If you found this blog, you are likely already considering two of the better solar panel brands available in Q Cells and Silfab. This blog aims to help you narrow down your selection between the two brands.
This blog compares these solar brands in four key areas:
Solar Panel Comparison: Q Cells vs. Silfab
Before we jump into the product comparison, here's a rundown of both of these solar manufacturers.

Q Cells is owned by Hanwha Chemical, a company with businesses that span the manufacturing, construction, finance, leisure, and lifestyle industries. The business is headquartered in Seoul, South Korea. In 2019, Q Cells opened the Western Hemisphere's largest solar assembly facility in Dalton, Georgia. This facility can produce approximately 1.7 GW worth of solar panels yearly, underscoring their commitment to manufacturing in North America.

Started in 2010 by a collaboration of international solar investors, Silfab Solar brings loads of experience to the North American solar sector. From their corporate headquarters in Canada and their two USA locations in Washington, their manufacturing capacity is 800 MW worth of panels each year.

Both companies provide high-quality solar panels that are a great option for your system, but we compare several differences below.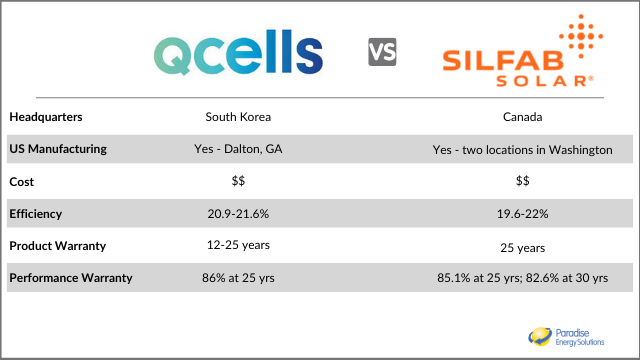 The Cost of Q Cells and Silfab Solar Panels
There are many great benefits for installing solar panels (reduced electric bill, tax credits, clean energy), but the installation cost is one big hurdle that must be addressed. The panels are just one of many components of a solar system. However, they are a big portion of the cost.

While there is a difference in price between Silfab and Q Cells, the difference is minor. Q Cells and Silfab's solar panels are generally very close in price, and the overall cost depends more on the options chosen than the brand itself - i.e. all black panels vs. silver framed panels.

Some brands do vary more in price, but when comparing Silfab and Q Cells, some of the other aspects below are more important to consider.
Are Q Cells More Efficiency Than Silfab Solar Panels?
Most solar panels available today are able to convert 15 - 23 percent of the sun's energy into electricity. This solar panel efficiency varies between solar panels, and it is an important factor to consider when making choices about which solar panels to purchase.

Silfab and Q Cells offer an efficiency rating on par with the industry's best solar panels. Silfab offers both commercial and residential solar panels with 19.6% to 22.0% efficiency rates. Q Cells offer an efficiency rate of 20.9% for their residential panels and 21.4 to 21.6% for their commercial panels.

The residential line is a slightly lower efficiency due to the all-black panels; while they improve the aesthetics of the system, those good looks come with slightly lower efficiency.

How Do The Warranties of Q Cells and Silfab Compare?
Product Warranties
The product warranties that come with most solar panels are in place to protect the consumer from receiving defective or damaged panels.

Both Silfab and Q Cells offer superb product warranties of 25 years on their products. Silfab includes a standard 12-year product warranty, which is freely extended to 25 years with the condition that your installer is registered as a qualified Silfab installer. Q Cells offers up to $250 in labor costs for systems registered through their Q.PARTNER program in addition to their product warranty.

When considering the various solar companies and their warranties, you will want to also look at a company's financial standings. While having an excellent warranty is great, if the company goes out of business, that warranty becomes void.

Both Silfab and Q Cells are reputable companies that appear to be in good standing to continue manufacturing panels and honor product warranties well into the future.

Silfab is a company that has more than forty years of experience with solar. Q Cells has been a major manufacturer of solar panels since 1999 and continues to provide solar panels for a large portion of solar projects around the world.

One advantage of installing a solar system with Paradise Energy Solutions is our Triple Ten Guarantee. This covers any labor costs for replacing products under warranty, a cost that is often not covered by the manufacturer's warranty. This is an added layer of protection that also includes a ten-year performance guarantee and system monitoring.
Performance Warranties
As solar panels age, the amount of electricity it produces decreases. This is called degradation, and it's something that happens to every panel over the course of its life.
To help protect consumers from a panel that doesn't meet performance standards, the manufacturers offer performance warranties to promise that their panels' degradation rates stay above a certain percentage.
When comparing performance warranties, Silfab offers a slightly better warranty. Q Cells offers the industry-standard 25-year performance warranty, while Silfab offers a 30-year warranty.
Silfab guarantees their panels will perform at or above 85.1% after 25 years and 82.6% after 30 years. Q Cells solar panels come with a guaranteed 25-year performance at 86% of the original efficiency.
While Q Cells promises a higher percentage at the end of 25 years, Silfab offers a guarantee for an additional five years. Both of these companies offer a performance warranty well above the industry standard 25-year performance warranty of 80% of original efficiency.
Which Solar Panels Are Best For You?
While both the Q Cells and the Silfab Solar panels offer reliability and are a strong option for those looking for solar panels, there are some distinct differences that should be understood before you make a decision. Take into account the cost, panel efficiency, product and performance warranties, and degradation rates before choosing a brand of panels.
If you need help selecting the best solar panel for your system, let our team help. Request your custom quote below.
Still not convinced about which solar panel brand to go with? Check out these other brand comparisons that our team put together and this guide to the best solar panel brands.