Ensuring you have the right type of solar panels is an essential step in the solar investment process. However, sorting through and comparing your options can feel overwhelming with dozens of solar panel brands to choose from.
We want to help make this process easier. So we're comparing two leading solar panel brands: Axitex and SunPower.
How will each of these panels compare to one another? To get a good idea, we'll take a look at how they measure up on the following characteristics:
The Price of Axitec Panels vs. SunPower Solar Panels
Just like a car, solar panels come with a variety of options. These options can cause prices to fluctuate dramatically, even if they're within the same brand. Everything from the model and size of the panel to its frame and back sheet color will impact the total cost of the panel.
For the purposes of comparing the cost of both brands, you'll want to even the playing field as much as possible, ensuring you're comparing apples to apples when it comes to the various options.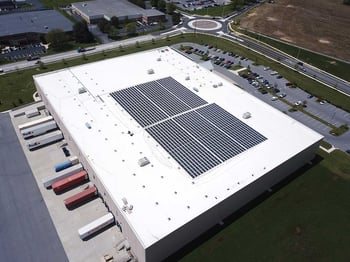 When looking at the cost of panels offered by these two manufacturers, Axitec panels tend to be less, and SunPower panels tend to be more. In the overall pricing scheme of solar equipment, Axitec typically comes in at the middle-of-the-road in pricing. That said, their product offering spans a wide range of budgets, including solar panels that are relatively inexpensive and solar panels that are on the pricier end.
SunPower's product offering leans toward the more expensive end of the spectrum, selling some of the most costly solar panels on the market. Even their bottom-tier panels tend to be on the pricier side.
That said, Axitec won't always be the better deal or value because they're less expensive. SunPower's panels are costly because they're some of the most efficient panels on the market, and they're backed by lengthy warranties.
When it comes to price, you'll want to take a big-picture approach. If the space you have available to install your system is limited, it may make more sense to pack in higher-efficiency (and higher-cost) panels instead of less expensive ones. That means the panels that are the best value for your project will vary with your specific needs.
Learn more about the cost of a complete solar energy system.
Axitec vs. SunPower: Which Solar Panels are More Efficient?
The efficiency of your solar panel partially influences how much electricity your system will produce. The higher the efficiency, the better it is at converting energy from the sun to electricity.
SunPower offers some of the most efficient solar panels available. Their least efficient panels, which belong to their P Series, have up to 19% efficiency. On the other end of the spectrum are their most efficient panels, the X Series, which deliver efficiencies of up to 22.7%. Their closest competitor in terms of efficiency is LG Solar, whose panels come in at 21.7%.
Axitec manufactures panels that range from 17.21% efficiency to 20.38% efficiency. That said, their standard 60-cell to 72-cell panels have a maximum efficiency of 17.83%. Only their 120-cell and 144-cell half-cut cell panels in their AXIpremium line offer efficiencies that top 20%.
While they're not as high as SunPower, they still earn their spot among the top solar panel manufacturers out there. Most solar panels have efficiencies ranging from 15% to 20%, so both brands offer options that exceed this standard window.
Which will produce more electricity? With their higher efficiencies, SunPower panels will produce more electricity. However, they also come with a higher price tag.
Here's an overview of the most efficient solar panels available today.
Product Warranties for Axitec and SunPower
One clear sign of a high-quality solar panel is a comprehensive product warranty. These are manufacturer-backed guarantees that protect your solar panels against any defects caused by the material or manufacturing process. Should issues arise, the faulty panels will be repaired or replaced by the manufacturer.
These warranties are vital because they protect your investment and demonstrate the faith the manufacturer has in the products they produce. A company simply couldn't afford long-lasting, comprehensive warranties if their panels routinely had issues.
Both Axitec and SunPower offer substantial product warranties. Axitec covers their panels for 15 years, and SunPower covers theirs for 25 years.
Twenty-five years tends to be the longest product warranty in the solar industry. Other premium manufacturers like LG Solar and Panasonic also offer 25-year warranties.
One thing to consider is that these manufacturer warranties typically only cover the costs associated with repairing or replacing the solar panels themselves. They don't include the labor needed to uninstall and reinstall the new or fixed panel.
However, if you go solar with Paradise Energy, we cover any warranty-associated labor as part of our Triple Ten Guarantee. This way, you won't be surprised by an expensive repair bill, even though the warranty covered the new components.
Performance Warranties for Axitec and SunPower Panels
In addition to comprehensive product warranties, good solar panel brands will also include performance warranties, which protect your panels against degradation.
Degradation is an inescapable effect on solar panels. As solar panels age, they slowly lose the capability to produce power. If your panels degrade more quickly than they should, the performance warranty will ensure they're replaced or repaired.
While product warranties' term length varies from manufacturer to manufacturer, the term length of performance warranties tends to stay at 25 years. However, the rate at which the solar panels degrade after 25 years varies.
At the 25-year mark, Axitec panels are guaranteed to have at least 85% of their production capacity. This is somewhat standard, if not above average, among the most reliable and popular non-premium brands.
As a premium brand, SunPower says their panels will still have 92% of the production capacity after year 25. This is the highest among the popular premium brands, with LG Solar coming next at 90.8%.
One important thing to note about performance warranties is that they're a guarantee against the panels' ability to produce electricity—not the actual amount of electricity they do produce.
Electricity production depends on various factors, like system design, weather, and shading. At Paradise Energy, we do offer a warranty that covers the actual production of your system. Our Triple Ten Guarantee protects your solar power investment and returns by guaranteeing the production estimate we give you with your system proposal.
Which Solar Panel Brand is Better for You?
Fair prices, high efficiencies, and substantial warranties are all worthy characteristics to consider when conducting solar panel brand comparisons. However, the most important factor is missing—your specific needs and expectations for the solar energy system.
Solar systems are unique and custom-designed to meet your needs while staying within your budget and available space. Finding the right solar company that will take the time to understand your needs and goals before jumping into the solar installation is just as, if not more, important than selecting solar panels.
That said, we can make some general recommendations regarding these two brands.
Axitec solar panels offer excellent value. They offer panels with middle to high efficiencies for an accessible price. Their product and performance warranties demonstrate their confidence in their product, and their longevity as a company justifies that confidence.
On the other hand, SunPower offers high-efficiency panels at a higher cost. They also create very high-quality products, backed with stellar product and performance warranties lasting 25 years.
So if keeping costs under control is more of a concern than producing as much electricity as possible, Axitec may be the way to go. However, if you want to optimize your production and have some extra money to spend, SunPower may be your best bet.
| | | | | |
| --- | --- | --- | --- | --- |
| BRAND | COST | EFFICIENCY | PRODUCT WARRANTY | PERFORMANCE WARRANTY |
| Axitec | Offers panels in a wide price range, but overall tend to be less than SunPower | 17.21% to 20.38% Efficiency | 15-year product warranty | All panels have a 25-Year performance guarantee at 85% |
| SunPower | Some of the most expensive solar panels on the market | 19% to 22.7% Efficiency | 25-year product warranty | All panels have a 25-year performance guarantee at 92%. |
Not sure if Axitec or SunPower panels are right for you? Check out our other solar panel brand comparisons:
Need help selecting the best panels for your system? Ready to get an exact cost for a system that best fits your needs? Click the button below to get started!