From how much energy your solar system produces to how much you pay, the solar panel brand you choose can have a big impact on your system's success. In this blog, we're going to take a look at two popular solar panel brands we offer here at Paradise Energy: Axitec and Q CELLS.
These brands both offer quality panels in a variety of types, sizes, and color combinations at a mid-range price.
Axitec is a German-based solar panel and energy storage manufacturer. They produce their products in both Europe and Asia and distribute them around the world. Dating back to 2001, Axitec has been a player in the solar energy market for quite some time.
Q CELLS, formerly known as Hanwha Q CELLS, is headquartered in South Korea but was initially established in Germany in 1999, where the company's Technology and Innovation Center is located. Q CELLS is part of Hanwha Chemicals and manufactures solar panels in Asia and the United States for global distribution. Q CELLS also has a long history in the solar industry and is one of the leading solar panel manufacturers by volume in the world.
We'll compare panels from each brand based on the following criteria:
What's the Better Deal: The Cost of Axitec vs Q CELLS Solar Panels
Solar panels vary with size, type, efficiency, frame and back sheet color, and more. All these variables will impact the price. When you're comparing the cost of solar panels, you'll want to level the playing field by looking at the costs per watt.
Both companies offer a wide variety of solar panels and are fairly close in price. Between the two companies, Axitec will likely offer the cheapest option, while Q CELLS' panels will typically be a bit more expensive. Compared to the solar panel market overall, both companies come in around the middle in terms of cost. There are budget panels that are less expensive but won't offer the same dependable and high-performing product. The brands that are more expensive, like LG and Sunpower, produce panels that are more efficient and of a higher quality, which justifies the price increase.
Which Are More Efficient: Axitec or Q CELLS Solar Panels?
Efficiency is how much electricity each panel will produce given the sunlight it receives.
To measure efficiency, solar panels undergo tests in a controlled lab environment where conditions that impact electricity production are standardized. The panels are then assigned a percentage, which represents how many watt-hours of electricity the panel produces compared to the watt-hours of energy the panel received from the sun.
It typically stands true that panels with higher efficiency cost more. That said, the more efficient the panels are, the fewer you'll need to meet your electricity production goals.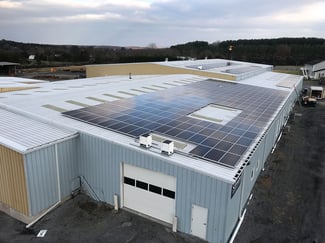 Axitec's solar panels have an efficiency of between 17.21% to 20.38%, though their 60-cell and 72-cell options max out at 17.83% efficiency. To get Axitec panels with an efficiency of over 20%, you need to go to their 120-cell or 144-cell AXIpremium line. These are half-cut cell panels, which means improved module performance and efficiency. However, they also tend to be more expensive.
Q CELLS currently offer panels with efficiencies ranging from 18.6% to 20.6%. Like with Axitec, to get efficiency above 20%, you'll need to go with their Q.PEAK DUO line, which are made of half-cut cell panels. That said, Q CELLS does offer a standard 60-cell panel with 19.5% efficiency, which is higher than Axitec's 60-cell or 72-cell options, which max out at 17.83% efficiency.
How do these compare to other solar panels available? Most panels have efficiency rates in the range of 15% to 20%. So both Axitec and Q CELLS offer average to above-average panels. The most efficient panels widely available to consumers come from LG and Sunpower, which come in at 21.7% and 22.7% respectively.
If you have a small space to install your solar panels, you'll want to maximize how much each panel produces, making panels with a higher efficiency a better option. That said, they will likely be more costly. If you have plenty of room to install your solar system, it may be more economical to install a few extra panels that are less efficient but also less expensive.
Overall, Q CELLS offers the most efficient panels, with a 1.67% edge over Axitec's most efficient standard panel, and a 0.22% edge over Axitec's most efficient half-cut cell panel.
Does Axitec or Q CELLS Offer a Better Product Warranty
Solar panel warranties are an important factor for two reasons. A good warranty protects your investment and will step up in the event you get a faulty product. But equally as important, it shows the faith the manufacturer has in their product.
Put another way, a solar panel manufacturer couldn't afford good warranties unless their products were dependable and of great quality. Combine this with the longevity of the company, and you can be sure you're getting a great product that a trustworthy company is willing to stand behind.
The quality of the products we install are very important to us at Paradise Energy, which is why we chose to work with the manufacturers that we do. In the case of Axitec and Q CELLS, both offer fantastic warranties and have been in the solar industry for over two decades.
One of the warranties offered by manufacturers is the product warranty. This warranty will protect the panels against any defects caused by the material or manufacturing process. If there are issues, the manufacturer will either repair or replace the affected panels. The warranty, however, does not cover the labor required to uninstall or reinstall the equipment. But Paradise Energy's Triple Ten Guarantee does.
Where do Axitec and Q CELLS rank when it comes to warranties? Axitec offers a 15-year manufacturer's warranty on their panels, and Q CELLS as 12-year. Both companies up the ante to 25-year product warranty with their all-black line of modules.
Performance Warranties: Do Axitec or Q CELLS Panels Have Better Degradation Rates?
The other type of warranty is the performance guarantee. This is the manufacturer's promise that your panels will stay above a specific degradation rate after a certain amount of years.
What is the degradation rate? All solar panels slowly degrade, meaning their potential for energy output reduces as time passes. The performance warranty ensures the panels degrade at a specific rate, meaning they'll have the capability to produce a specific percentage of power at a certain age.
However, it's only a guarantee on the capability to produce that power, not a guarantee to the amount of electricity they actually produce. That comes down to the amount of sunshine that reaches your panels, which is controlled by outside factors like installation and weather. But overall system production is covered under Paradise Energy's Triple Ten Guarantee.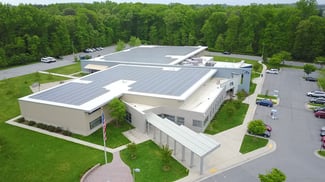 Axitec offers a 25-year performance warranty. It guarantees that after 15 years, the panels will have at least 90% of their nominal performance. After 25 years, it promises the panels will be able to produce 85% of their nominal performance. This is the warranty across the board for both standard and half-cut cell panels.
Q CELLS offers a similar 25-year performance guarantee. They promise that all their solar panels will produce 98% after the first year, and degrade no more than 0.54% per year. It guarantees that after 10 years, the panels will have at least 93.1% of their nominal performance. After 25 years, it promises the panels will be able to produce 85% of their nominal performance.
Both companies have a similar performance guarantee, ending up at 85% after 25 years.
Are Axitec Panels or Q CELLS Panels Better For You?
If you're looking for panels with a lower cost per watt, Axitec may be your best bet between the two of these companies. If you're looking for panels with the best efficiency, Q CELLS has the edge over Axitec. When it comes to warranties, Axitec offers a longer product warranty, but the two companies have very similar performance warranties.
| | | | | |
| --- | --- | --- | --- | --- |
| BRAND | COST | EFFICIENCY | PRODUCT WARRANTY | PERFORMANCE WARRANTY |
| Axitec | Wider Price Range: Includes the Cheapest and Most Expensive Options | 17.21% to 20.38% Efficiency | 15-year product warranty | All panels have a 25-Year performance guarantee at 85% |
| Q Cells | Slightly more expensive | 18.6% to 20.6% Efficiency | 15-year product warranty | All Panels Have a 25-Year Performance Guarantee at 85% |
Regardless of which route you choose, these two brands both offer a range of high-quality solar panels at a great price. While they're not among the highest tier in terms of efficiency, they come in at a lower price and are a more accessible option.
Take a look at our other solar panel brand comparisons:
Note: Information on efficiency, performance warranty, and production warranty accessed from Axitec's solar panel product page and Q CELLS' solar panel product page.