Maryland continues to be a popular state for solar power. With sunshine the majority of days and the relatively cooler temperatures of more southern states, solar panels operate efficiently and can effectively produce high levels of electricity. Its long-term affordability in comparison to Maryland's high electricity costs, along with attractive state and federal incentives make going solar an attractive investment.

Federal Incentives
On a federal level, there are two primary incentives for solar: the ITC and MACRS depreciation. USDA also has a grant program, which is available to select commercial and agricultural projects.
The ITC (Investment Tax Credit) is equal to 26% of the total project cost and is available for any entity or individual who is paying taxes. The ITC acts as a credit against income tax but is not refundable. In other words, the ITC cannot generate a tax refund. Any excess credit from the taxable year of the solar installation can typically be carried forward 20 years, or, in some cases, backward one year. At the end of 2020, the ITC is scheduled to drop from 26% to 22%. In 2022, it will exist only as a 10% credit for commercial installations only. Due to this drop-off, it's important to take full advantage of it in 2020. With a "safe harbor" provision, all projects that have begun installation in 2020 can take advantage of the 26% ITC, even if the installation is not complete in that year.
MACRS depreciation is available for solar projects used for business and can be taken over 5 years, rather than the typical 39 years for business equipment. This depreciation is available for the entire cost of the solar project, minus half of the ITC (typically 13%). This provides a significant benefit for business owners, particularly those in higher tax brackets.
The USDA grant is available for farms and for small businesses located in a rural area. This grant program has limited funding, which can vary significantly year to year, and has an extensive application process. For these reasons, many installers avoid the grant altogether. Paradise Energy is among the most successful installers in the northeast at securing USDA funding for their customers. They have successfully secured more than $1.27 million for 36 projects in 5 states over the past 4 years. While the application process is complicated, the grant can fund up to 25% of total cost for select projects.
Maryland Solar Incentives
Maryland continues to show a strong commitment to solar and is encouraging installation of solar in the state with strong incentives. These incentives include SRECs, grants, and tax credits.
The State of Maryland's Residential Clean Energy Grant Program, Administered by the Maryland Energy Administration, provides a $1,000 grant rebate per residential project (systems within 1kW to 20 kW). Maryland also has a grant program which provides $60/watt for commercial projects up to 100 kW, and $30/watt for commercial projects between 100-200 kW.
On the county level, there are some property tax credits available, usually for residential projects only. These programs also have a limited amount of funds, and many are oversubscribed.
SRECs
An SREC (Solar Renewable Energy Certificate) is minted for every MWh (1,000 kWhs) generated from a solar project. An SREC represents the environmental benefit of solar and is completely separate from electric savings and other benefits of solar. The value of an SREC varies significantly by state and is based on the demand for SRECs within any given state. States with requirements for SRECs include Pennsylvania, Ohio, Maryland, Delaware, and New Jersey.
The requirement for SRECs is based on state law and typically increases over time. For example, the State of Maryland plans to reach 2.5% of the electricity consumed in the state to be produced by solar. Electricity suppliers that do not meet the requirement are fined at the current SACP (solar alternative compliance payment). To avoid the fine, electricity suppliers buy SRECs, which provides the demand.
States also vary in requirements of solar project location. Most states, including Maryland, Delaware, and New Jersey require that SRECs used in compliance of their individual state laws be produced by solar projects within their state. On the other hand, some states accept SRECs produced in other states, like Ohio. Until 2017 Act 40, Pennsylvania accepted credits from anywhere within the PJM area. This lead to an overabundance of credits, which resulted in a lower rate. Act 40 put an end to this, and SRECs prices have increased.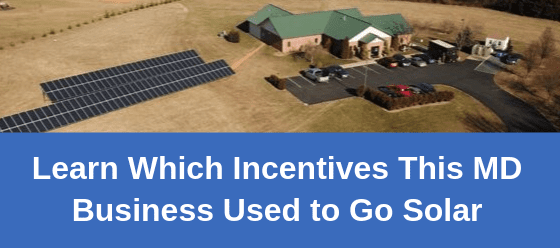 Note: Paradise Energy is not a tax advisor; please consult with your accountant or tax advisor to determine how you can take advantage of tax credits and depreciation for your particular situation.