The electric savings from solar energy can greatly impact your business or farm's bottom line. Depending on your solar system's production, how much electricity you use, and how much your energy costs, a solar system can reach a payback in just a few years. But to have that great source of free energy, you must first make an upfront investment.
With declining material and installation costs and attractive incentives like the 30% Solar Investment Tax Credit and accelerated depreciation, that upfront investment is easier to make. Add in electricity savings, and you could have a significant and reliable ROI.
But, if you qualify, the cherry on top of this investment could be the USDA REAP Grant.
The USDA's Rural Energy for America Program (REAP) gives grants to agricultural producers and rural small businesses to help fund energy-efficiency improvements and renewable energy projects. These grants can cover up to 40% of the total installation cost of your solar system (up to $1 million).
However, USDA Grants are extremely competitive, with hundreds of farmers and businesses in rural areas trying for a piece of the limited funds. Even without it, solar is a great investment for many, but a little extra help can't hurt!
At Paradise Energy, we have a success rate of over 80% in obtaining grants for our customers. Our grant-writing experts will take care of all the paperwork for you, making it easy and stress-free for you. This blog will share our expertise and explain all you need to know about the grant process and its requirements.
USDA REAP Grant Rounds
If you are applying for a USDA REAP grant, there are two times a year you can submit your application. These two periods are referred to as Rounds. Round 1, or the Fall Round, occurs in October. Round 2, or the Spring Round, occurs at the end of March.
Though you're probably excited to start saving money with a new solar system, you may not want to just apply to whichever Round is sooner. The rules are a little different for each, and you can only apply one time per project. This means selecting the right Round is crucial to your chances of getting a grant.
Round 1
Because the USDA's year starts on October 1 and ends on September 30, the fall round is the year's first round. This Round is for grant applications of $20,000 or less.
Round 2
A few months later, in March, comes Round 2 - the Spring Round. If you're interested in a grant over $20,000, you would have to apply to this Round.
How Many Chances Do I Get for a USDA REAP Grant?
If you enter Round 1, you will have five chances to receive your grant. If you enter Round 2, you will have three chances if your grant amount is $20,000 or less and two chances if your grant amount is over $20,000.
Here's how a grant application progresses throughout the Rounds.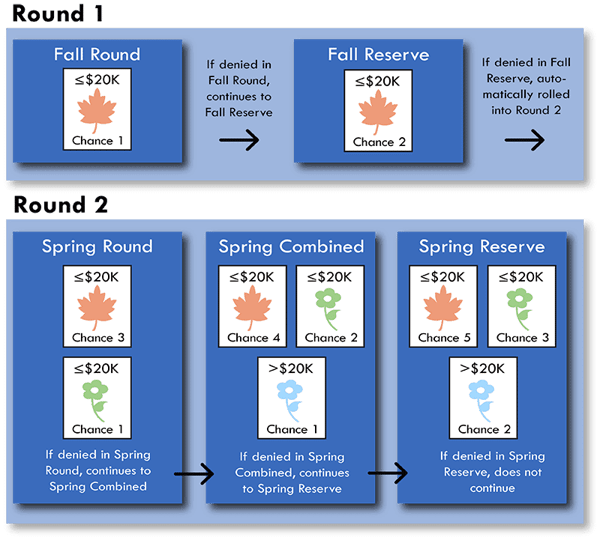 If submitting in October, your application will first go into the Fall Round. This is the regular Round for grants that are less than $20,000. After the Fall Round, the remaining money that was not allocated to grants is reallocated to the states. Your application is then entered into the Fall Reserve, which will pull on the reallocated funds if selected.
If your application is not awarded a grant in the Fall Reserve, it is automatically rolled over to the Spring Round for that year and will compete with other applications for $20,000 or less entered for the first time in Round 2.
If your application is denied again, it will pass to the Spring Combined Round. Here, it will compete with grant requests of over $20,000 that are entered for the first time. Grant applications denied in this stage progress to the Spring Reserve final round. If your application is not awarded a grant here, your project will no longer be eligible, and a USDA REAP Grant.
While applications entered in Round 1 can progress throughout all the Rounds in the year, applications entered in Round 2 only progress through the Spring Round. Applications entered for the first time in the Spring Round will not be entered in the following year's Fall Round.
How Do I Qualify for a USDA REAP Grant?
In order to determine if you qualify, you need to first determine if you are filing as a farm or a business.
Farmers (Schedule F)
If you use Schedule F, you will be filing as an agricultural producer. In order to qualify, the majority of your income (51%) must come from the farm. Additionally, the majority of the electricity you use (51%) must be consumed by farm operations - not by personal residences attached to the property. Any electricity you use for your residence will not count toward your 51%. You also need to be free of any owed back taxes to the IRS.
Businesses (Form 1065 or 1120)
If you file a 1065 or 1120, you will be applying as a rural small business. The rules for qualifying are similar to those of farms: the majority of electricity consumed on the property must be for business purposes only, and the applicant can't owe any back taxes. Most businesses that operate out of your residence do not qualify.
In addition, the business must be located in a qualifying area. You can use the USDA's Eligibility Map to determine if your business is in a qualifying area. If your property is close to a qualifying area, but it's quite within the shaded portion, check with a USDA Grant professional to determine whether or not it qualifies.
What Documents Are Required for the USDA REAP Grant?
Now that we've gone over the process and the qualifications, we'll turn to the documents required for the application. The information you need to submit for the USDA REAP Grant depends on your project size. Projects are broken down into three document sets:
Document Set 1 - Projects under $200,000

Document Set 2 - Projects $200,000 to $400,000

Document Set 3 - Projects over $400,000
Requirements for Document Set 1:
Your most recent electric bill and, if possible, electric bills from the past 12 months

The legal name of the business

Three years of tax returns if in business for three or more years. One or two years of tax returns are acceptable for businesses that are only a year or two old

Current balance sheet

Proof of veteran status, if applicable

Legal documentation from the state, if a legal business

DUNS number
The DUNS number will then be used to apply to SAM.gov to see if you qualify. If so, you will be given a cage code with an expiration date that is needed to continue the process.
Requirements for Document Set 2:
All of the information required for Document Set 1

An additional financial statement showing future plans and strategies from the past

Additional income statement

Three years of prior financial statements

Three years of projected financial statements

A third-party feasibility study by an engineer
Requirements for Document Set 3:
All of the information required for Document Sets 1 & 2

Electrical drawings of the solar system submitted to a third-party engineer, verified and stamped
How is USDA REAP Grants Evaluated?
Next, we'll go over what criteria the USDA uses when determining which projects are awarded grants and how many points your project can earn.
Applications are evaluated according to a scorecard. Though not all-inclusive, here are the major factors used to evaluate applications and the number of points awarded for each:
Quantity of Energy Generated from the System
This is the percentage of electricity used by your farm or business that your system will generate. For example, say you use 100,000 kWh of electricity a year and install enough solar panels to produce 90,000 kWh a year. The quantity of energy generated from the system would be 90%. The point breakdown for this item is as follows:
50% to 150% - 15 points

25% to 50% - 10 points

150% or more - 10 points
Although it is possible to earn 10 points for 150% or more, a project on this level is considered energy generation. It is much more difficult to receive a grant for this type of project.
Commitment of Funds
This item has to do with the funding of the project and how much funding you have secured. The breakdown is as follows:
100% of customer-required funds - 20 points

Less than 100% of customer-required funds - 0 points
In order to earn 20 points for this item, the applicant needs to have the total cost of installation covered, whether by a loan, cash, or another method of payment. However, the funding can include the USDA REAP Grant as part of the 100%. So if you're applying for a grant for 40% of the project's cost, you only need funds for 60%. If you do not have 100% funding, it isn't advisable to submit for the grant.
Previous Grantees
This section awards points based on whether or not you have already received a grant and how long ago that grant was awarded. Points are awarded as follows:
Never received a grant - 15 points

Applying two or more years after receiving a grant - 5 points

If applying within two years of receiving a grant - 0 points
Simple Payback (Based on Electric Savings Only)
This section evaluates applications based on how long it will take owners to pay off the cost of the system. It only factors in savings from the reduced utility electricity. It does not take into account any additional incentives, like the Solar Investment Tax Credit, depreciation, or state and local incentives. Points are awarded as follows:
Less than 10 years - 15 points

10 to 15 years (not including 15 years) - 10 points

15 to 25 years (not including 25 years) - 5 points

More than 25 years - 0 points
Environmental Benefits
This section judges projects based on the solar system's environmental impact. Points are awarded based on the following:
Resource conservation (water, soil, and forest)

Public health (potable water, air quality)

Environment (compliance with EPA renewable fuel standards)
State Director and Administrator
The USDA REAP Grant State Director and Administrator can give up to ten points to a project that is based on his or her discretion.
Size of REAP Funding Request
All grant requests that are less than $250,000 are awarded 10 points. Requests $250,000 and more do not receive points for this section.
There's so much to consider when applying for a USDA REAP Grant: selecting the right round in which to apply, whether or not your system's location qualifies, and which documents are needed. Successfully completing one of these 100+ page applications requires experience, and at Paradise Energy, our team has that.
With an 80% success rate in obtaining the USDA REAP Grant for our customers, we're able to lead you down the best path. But with so many projects competing for limited funds, rest assured that your solar system will still be a powerful and safe investment, even without the grant.
If you're considering going solar on your farm or rural business and would like to apply for a USDA REAP Grant, let Paradise Energy's team of experts do the hard part, so you can get a jump start on saving money with solar energy! We've helped our customers secure over $10 million in USDA Grants, and we'd love to help you too.

Last updated: December 22, 2022