Each solar panel system is uniquely designed to suit its location and the needs of its owner. With that customization comes price variability. So while this blog can't give a 100% answer, we can offer some average costs that may help you frame your expectations.
We'll take a look at what factors impact pricing, as well as costs for average solar panel systems in Maryland. Whether on the Eastern Shore, the Capital Metro, or the Western Region, solar can be a profitable investment for Maryland businesses, farms, and homeowners.
Here's what we cover in this blog:
What Factors Impact The Cost of Installing Solar Panels In Maryland?
Solar isn't a one-size-fits-all option. Your system will be custom designed to suit your specific property and needs. Because of this, prices can vary from system to system. Here are common factors that impact how much your solar panel system will cost in Maryland.
Roof Mount vs. Ground Mount vs. Carport: Roof-mounted systems are comprised of solar panels installed on a roof (shingle, standing seam, and ribbed are the most common types of roofs we install on), and ground-mounted systems and carports feature solar panels installed on a free-standing structure. Generally, roof-mounted systems are less expensive because ground mounts and carports require additional labor and material.
Type of Equipment: Top-of-the-line panels and inverters will cost more, but they may produce more energy and last longer. Opting for affordable brands can be an excellent way to keep costs down, as long as they're quality products that you can depend on for years.
Roof Type: Solar can be installed on a variety of roof types, but each type requires different mounting methods. Shingle and corrugated steel roofs need flashing that attaches the racking to the roof. Standing-seam roofs rely on clamps, and flat roofs often utilize ballast mounts, where weighted blocks on trays hold the panels in place.
Energy Consumption & Size: In most cases, the size of your solar system is determined by your energy usage. Larger systems cost more, but they also save you more. Likewise, smaller systems may cost less but typically have lower ROIs due to solar's fixed costs.
Shading: The more shade that's cast on your system, the more panels need to be added to offset the loss in production. That means a larger system and a larger installation bill.
Weather Patterns: If you live in an area with tons of year-round sunshine, you can meet your energy-generation goals with a smaller system compared to a rainy or cloudy area. Maryland has a great climate for solar panels.
Interconnection Costs: Utilities charge solar owners to connect a solar system to the power grid. Each utility has individual requirements, which can dictate specific meters or transformer upgrades.
Distance from the Solar Panels to the Interconnection Point: Power produced by your system needs to pass through your utility meter. The greater the distance between these two points, the more materials and labor are needed to connect them. That means higher installation costs.
What is the Cost of Installing Solar Panels in Maryland?
Cost of installing solar panels at a home in Maryland
There are plenty of variables that impact the cost of solar for homeowners. But you probably want an actual dollar amount that helps frame your cost expectations.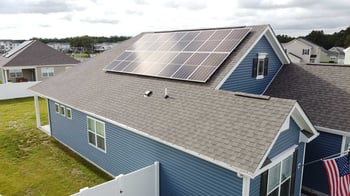 The following chart gives you just that. Broken down by size, it shows you how much solar panels in Maryland cost a typical house based on their monthly electric bill. Not only is solar a great way to gain energy independence, reduce fossil fuel dependence, and cut back on a monthly bill, but it's also an asset for your property that can boost its value.

This chart includes only the most widely-available incentive in Maryland (the 30% tax credit). Depending on your circumstances, the net cost will vary. You may also qualify for other incentives, like the $1,000 Maryland Clean Energy Grant.
Average Monthly

Electric Bill

Solar System Size

(for about 100% offset)

Total Installed Cost

(before incentives)

Cost After The Federal Tax Credit & MD State Grant

$60

5 kW

$28,050

$18,635

$120

10 kW

$40,080

$27,056

$180

15 kW

$54,220

$36,954
Cost of Solar Panels for Maryland Businesses & Farms
The chart below shows what the average commercial or agricultural solar system costs in Maryland. These costs take into account two widely available incentives: the federal tax credit and bonus depreciation.

Until 2025, the solar investment tax credit is at 30% for businesses and farms. Thereafter, it will vary based on the Department of Treasury's goals. It's worth noting that your business or farm may qualify for other incentives that bring costs down like the USDA REAP Grant, but these are the most common.

It's also worth noting that in exchange for this cost, you'll dramatically reduce a fixed cost, which frees up money that can go right to your bottom line.
Average Monthly

Electric Bill

Solar System Size

(for about 100% offset)

Total Installed Cost

(before incentives)

Cost After Tax Incentives & MD State Grant

$600

50 kW

$151,200

$56,617

$1,200

100 kW

$273,300

$100,732

$2,400

200 kW

$501,600

$192,041
Solar Panel Incentives in Maryland
Your solar system will generate cost-free electricity for decades. But in addition to that, you can save more money and pay fewer taxes with solar-related incentives.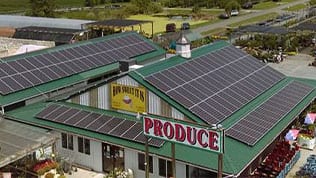 In addition to the country-wide incentives offered by the federal government like the 30% tax credit (residential & commercial), 10% tax adders, and bonus depreciation (federal & state - commercial projects only), Maryland offers several other incentives to help sweeten the deal.


Net Metering
One of these incentives is net metering. Net metering means the utility companies in your state must compensate you for electricity uploaded to the grid at the retail rate. That means you can use the grid as free storage. This makes offsetting 100% of your energy needs with solar much easier and more affordable.

SRECs
Additionally, Maryland homes and businesses can participate in the Solar Renewable Energy Credit (SREC) market. For each 1,000 kWh of solar energy you generate, you'll get one credit. This credit can then be sold on the SREC market for some extra cash. Income from SRECs could be an extra $500 or several thousand in your pocket, depending on your system's production and the market price.

Maryland Clean Energy Grant
You may also qualify for grants through the Maryland Energy Administration. This rebate tops out at $30,000 for qualifying rooftop commercial solar systems. Non-rooftop commercial systems can save up to $20,000, and residential systems can save up to $1,000.

Tax Exemptions
Lastly, Maryland will waive any increases in your property taxes related to your solar system, and you won't have to pay sales tax on any of your installation costs or solar components.
The Cost of Solar Panel Maintenance in Maryland
When you're making financial decisions like investing in solar, you have to consider its total lifecycle cost—not just the upfront sticker price. What will solar cost to maintain? How often does it require professional tune-ups or run into snags?
The good news is, compared to other renewable energy options, solar requires little upkeep. There are no moving parts and in most cases, no need for regular maintenance.
Clearing Dust & Snow
When it comes to regular maintenance, the big thing is keeping the panels clean. However, the vast majority of systems won't require solar panel cleaning. In most cases, steady rain will do a perfect job of washing away dirt and dust. However, in particularly dirty, dry, or dusty areas, cleaning may be needed periodically.
Snow removal is not recommended, as in most cases the risk to yourself and the panels isn't worth the production you'll get from clearing them. Solar panels are designed to warm up quickly in the winter sun, so melting snow falls right off, clearing away your panels in no time.
Other Issues
There's always the potential for other issues that impact production, like equipment malfunctions or wiring issues. If this is the case, a certified solar maintenance team should be called to diagnose and fix the issue. The good news is most solar panels come with a 25 or 30-year warranty. Solar inverters also come with length warranties of 12, 15, or 25 years.
At Paradise Energy, our Triple Ten Guarantee comes with ten years of system monitoring, meaning if there's an issue we'll detect it and schedule a time that works for you to come out and fix it. This warranty also guarantees your production and our workmanship.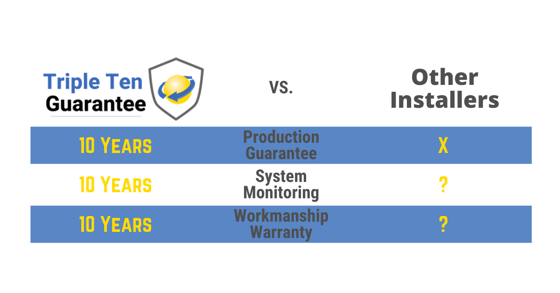 We can't promise that you'll never spend a dime maintaining your system. However, it isn't the norm, and there are various measures and protections to help you mitigate this expense.
Is Solar Energy Worth the Cost In Maryland?
Between the cost-saving incentives, decent sunshine, and high energy costs, Maryland is a great state to install solar. Investing in a solar system can lead to tax savings, free electricity, and a tangible asset that will increase the value of your property.
To begin your journey of saving money with solar in Maryland, simply click the button below to request a personalized quote. If you're not quite ready for a quote, you can visit our solar savings calculator to get a ballpark estimate of the benefits and potential savings of a solar investment.
At Paradise Energy, we provide full-service solar installations throughout Maryland and beyond. We've helped over 2,000 homeowners, farmers, and business owners throughout the mid-Atlantic region Save With Every Sunrise.
Last updated: August 2023