The one thing everyone looking to install solar wants to know is how much it will cost them.
And it's a good question.
While renewable energy is more affordable now than ever, going solar still requires an upfront investment. Over time, the free electricity generated by your system will make up for the costs and then some, but laying out that money, in the beginning, can be a hurdle for businesses, homeowners, and farmers alike.
In this blog, we'll take a look at how much it costs to install solar in Syracuse. These broad estimates should give you an idea of price whether you're in the City of Syracuse, Onondaga County, or the Central New York Region in general. We'll cover costs for commercial and agricultural systems as well as costs for home solar.
Variables That Impact Solar Panels' Cost
The cost of a solar system in Syracuse will vary based on a few factors. These include things like the size of your system, whether you install a ground-mounted or roof-mounted system, and the type of equipment you install.
Solar Incentives for Syracuse, NY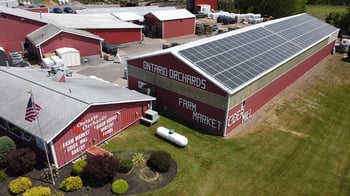 Another major factor that will change how much you pay to install solar in the Central New York Region is the incentives that are available.
There are various federal, state, and local incentives that can help shave thousands. However, the amount you'll save depends on which incentives you qualify for.
All tax-paying businesses, farms, and homes qualify for the solar investment tax credit from the Federal Government. This allows you to recoup 30% of installation costs back through a credit on your federal taxes.
Additionally, businesses and farms can take advantage of 100% bonus depreciation, in which they can accelerate all the tax savings from depreciation to the first year the system is put in service.
Homeowners can save up to $5,000 through the NY State Energy System Equipment Tax Credit.
Qualifying businesses, farms, and homes can save up to $1,000/kW through the NY-Sun Megawatt Block Program. National Grid also offers its food-producing customers (like farms, vineyards, and orchards) a grant. Here's more on the grants and incentives available to solar owners in New York.
How much will solar panels cost in Syracuse, NY
Below, we'll share a few estimates based on different systems sizes and types. While it won't be a perfect estimate, it should be somewhere in the ballpark.
We'll break solar panel installation costs down by residential and commercial systems, system size, and ground-mounted systems vs. roof-mounted systems.
The cost of Going Solar for Central NY Businesses & Farms
The charts below show a general idea of what a solar system may cost your Syracuse-area business or farm.
We include the 26% federal tax credit, bonus depreciation savings, and the NYSERDA grant in our post-incentive costs. It's possible you could qualify for other incentives (USDA REAP Grant is one), which would bring the price down further, but these two are the most widely available for farms and businesses in Onondaga County and Central New York.
| | | | |
| --- | --- | --- | --- |
| Average Monthly Electric Bill | Solar System Size & Type | Total Installed Cost (Before Incentives) | Cost After Incentives |
| $600 | 50 kW | $131,600 | $33,993 |
| $1,200 | 100 kW | $238,900 | $57,554 |
| $2,400 | 200 kW | $429,400 | $94,331 |

The Cost of Going Solar for Central NY Homeowners
If you're looking for a home improvement project that will not only reduce your monthly expenses but will also increase your property's value, solar energy can be a great option. Below is a chart showing what a solar company in Syracuse, NY may charge to install your system.
For incentives, we've included the 30% solar investment tax credit, along with the 25% NY State Energy System Equipment Tax Credit (which caps out at $5,000), and the NYSERDA grant.
| | | | |
| --- | --- | --- | --- |
| Average Monthly Electric Bill | Solar System Size & Type | Total Installed Cost (Before Incentives) | Cost After Incentives |
| $60 | 5 kW Roof Mount | $24,470 | $10,379 |
| $120 | 10 kW Roof Mount | $34,170 | $15,419 |
| $180 | 15 kW Roof Mount | $48,225 | $23,507 |
Is Solar Worth it in Central New York?
There's a mentality out there that solar energy is only practical and worthwhile in sunny climates. And any Salt City resident can tell you Syracuse's climate is a far cry from sunny.
So given Central New York's cloudy, rainy weather, is spending several thousand dollars to install an energy source reliant on the sun a good investment?
Time and time again, we see that, yes, it is a good investment.
While Syracuse receives a below-average amount of sunshine, a solar investment can potentially be better here than in a sunnier region.
Solar power pays for itself by offsetting your electric bill. Electricity rates in the Syracuse region and New York, in general, are consistently among the highest in the country. So while your Upstate system may generate a bit less electricity, that electricity will have a greater value.
And as the cost of solar system components decreases, it's becoming more and more affordable to slightly increase the size of your solar system to make up for any lost production due to poor weather.
We have data to back this up, too. These two blogs show the average solar system payback term and ROI for businesses, farms, and homeowners based on systems we've installed for real customers across Ohio and the Mid-Atlantic.
The average commercial or agricultural system in New York will pay for itself in 6.3 years. That's better than the average for all states, which is 8.15 years.
The average New York home will pay their system back in 15.6 years, which is slightly faster than the overall average of 15.9 years.
To put those numbers in perspective, most solar panels are guaranteed for 25 or even 30 or more years, meaning your system will be working and producing free electricity for at least that long. Both of these payback periods leave years of free electricity.
How Much Does Solar Cost to Maintain?
We've covered the cost to install solar, but how much does it cost to maintain a solar system over the 25, 30, or more years you'll have your system?
As the cost of installing solar itself will be dependent on a few variables. Some of them you can control or anticipate, some you can't.
Relative to other renewable energy options, solar power is pretty low maintenance. There are no moving parts and no need for regular upkeep or maintenance. Cleaning of dirt and grime and snow removal are mostly optional and, for most systems, unnecessary.
However, while it's unlikely, there's always the potential for issues with your equipment. To help mitigate unforeseen costs, you'll want to opt for reliable equipment manufactured by trusted companies. Often, this means investing slightly more in your equipment, but your future self will thank you.
While your solar installer should help you determine which equipment is best in the long run, click here to learn about the best solar panel brands and here for the best inverter brands.
Quality solar equipment will come with substantial product warranties that protect your investment against manufacturing or material errors. To further protect your investment, opt for a solar installer with its own warranty.
Manufacturer warranties don't cover anything when it comes to the installation of the panels. That's up to the individual installer. You'll want to choose one that offers a comprehensive workmanship warranty. At Paradise Energy, we provide a 10-year workmanship warranty, in addition to our ten-year performance warranty and ten years of free monitoring through our Triple Ten Guarantee.
To sum things up, we can't promise you'll never spend money on maintenance for your solar system. However, it isn't the norm, and there are various measures and protections available to mitigate this expense.
Installing Solar Panels in Syracuse, NY
In Syracuse, NY, a solar panel installation can cost anywhere between $13,000 to $50,000 for homeowners and $80,000 to upwards of $500,000 or more for businesses before utilizing incentives.
That said, this initial investment in a solar system can lead to tax savings and free electricity for your home, business, or farm for upwards of 30 years, saving you thousands of dollars. Even in Central New York's cloudy climate, high electricity prices and falling installation costs make solar a low-maintenance investment that can save you a substantial amount of money. It can also help you save the environment!
At Paradise Energy, we provide full-service solar installations throughout New York and beyond. If you're researching solar energy, feel free to take a look at our other educational blogs, download our solar buying guide, or request custom pricing using the button below.