Virginia's electricity rates are the sixth highest in the nation. That means you could be paying more for electricity than 86% of the country.
But you can do something about it. By installing solar, you'll own the means of producing your own electricity, freeing you from the expensive and ever-increasing electricity rates.
That said, solar energy costs money to install. And Virginia is a big state. Installing solar panels in the Shenandoah Valley will be a little different from installing solar in Virginia Beach.
In this blog, we'll break down how much solar panels cost in Virginia, and we'll give insight into what it's like to go solar in your region:
The Average Cost of Solar Panels in Virginia
One of the best ways to estimate how much solar will cost you is to relate it to your energy bill. That will give you a rough idea of your system's size.
Below, we've broken this information down into costs for homes and businesses. But for a general rule of thumb, a homeowner in Virginia can expect to pay between $20,000 and $45,000 before incentives. Businesses and farmers can expect to pay $100,000 to $500,000+ for a solar panel system in Virginia.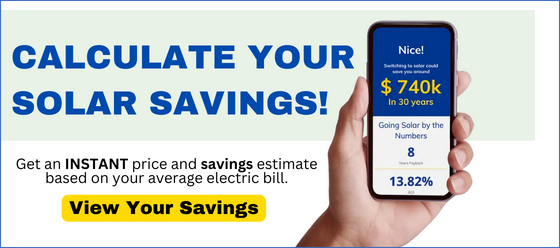 Cost to Install Solar Panels in Virginia for Homeowners
This chart shows what solar costs, on average, are for Virginia homeowners. The cost after incentives includes the 30% solar tax credit.
Average Monthly
Electric Bill
Solar System Size
Total Installed Cost
(Before Incentives)
Cost After Incentives
$60

5 kW

$25,400

$17,780

$120

10 kW

$35,410

$24,787

$180
15 kW
$46,370
$32,459
Cost to Install Solar Panels in Virginia for Businesses
Below are the average costs for roof-top solar systems for businesses and farms. The cost after incentives column includes the 30% tax credit and the 100% bonus depreciation savings.
Average Monthly
Electric Bill
Solar System Size
Total Installed Cost
(Before Incentives)
Cost After Incentives
$600

50 kW

$135,500

$59,434

$1,200

100 kW

$240,700

$105,577

$2,400
200 kW
$441,900
$193,828

Cost of Solar Power in Different Areas of Virginia
Charlottesville
Charlottesville and its surrounding communities have some of the sunniest weather in the state. With an average of 217 sunny days a year, your solar panels are going to churn out plenty of cost-free electricity.
On top of that, the local government is there to support homes and businesses looking to go green. The city of Charlottesville offers a tax credit for qualifying solar systems. They also have some great resources on their website, including a map that shows how much sunshine each roof receives.
Hampton Roads
Home to Newport News, Virginia Beach, Norfolk, and more, the Hampton Roads region in Virginia is great for solar. With so many tourists flocking to these coastal cities for gorgeous beaches and bright sunshine, local homes and businesses alike can stand to benefit a great deal from solar. Doing so will also help reduce air pollution, keeping those famous ocean views clear and sunrises vibrant.
Local governments are very supportive of installing solar as well. The County of Norfolk launched an initiative with SolSmart to make the solar permitting and planning process even easier. Newport News also has an online solar hub with tons of useful resources for learning about solar.
Harrisonburg
Tucked away in the gorgeous Shenandoah Valley, Harrisonburg is a solar hotspot in Virginia. The emissions-free electricity helps keep those sweeping mountain views clear and saves homeowners and businesses plenty of money.
In April 2022, Harrisonburg partnered with Solarize Virginia, a non-profit committed to making the installation process easier and more affordable. This program provides a solar inspection and connects you with experienced, trusted experts in the area.
Lynchburg
The Lynchburg area gets some serious sunshine. With 222 sunny days on average, Madison Heights is tied for the state's sunniest city. Timberlake is close behind, with an average of 221 annual days of sunshine. Pamplin City, Concord, and Brookneal all make the top 15.
Your solar system in Lynchburg will have plenty of bright days to churn out free energy. Whether you're looking to offset your business's or farm's operating costs or you're looking to lower your home's energy rates, solar may be a good option.
Northern Virginia (NOVA)
With cities like Alexandria, Falls Church, Fairfax, Manassas, and Manassas Park, NOVA has one of the highest costs of living in the country. One way to keep monthly costs under control is to install solar.
Depending on your electricity needs and your system's size, you could offset a huge portion of your monthly energy expenditure.
Fairfax County allows residents to install systems up to 20 kW, and businesses to install systems up to 500 kW. They also offer some local incentives, including waived permitting fees and tax exemptions on top of the national incentives.
For more information on installing solar in Fairfax County and Northern Virginia, check out the county's solar information web page.
Richmond
Businesses and homes in the Greater Richmond region can gain quite a bit by installing a solar panel system. And through the region's Solarize RVA campaign, getting the ball rolling on a project is even easier.
They're out to increase the speed at which Virginians adopt renewables and in doing so, offer a ton of resources to help you out in your project.
Roanoke
Roanoke, Salem, and their surrounding communities make up the largest region in Western Virginia. As a historic hub for transportation and a current transportation manufacturing powerhouse, businesses and homeowners alike stand to gain quite a bit when going solar.
By generating cost-free electricity, they can offset their high electricity bills with renewable energy. It can also help cut down on air pollution, keeping those beautiful views of the Blue Ridge Mountains clear.
In addition, the City of Roanoke initiated a campaign called Solarize Roanoke, which aims to make the solar installation process easier and more affordable. And in 2021, the program started to include options for solar batteries!
Solar Incentives Available in Virginia
One of the biggest factors in solar's cost is the available incentives. Both federal and local Virginian governments offer incentives that cut solar's installation costs, making paybacks even better.
One of the most robust incentives is the 30% federal solar investment tax credit (ITC). This incentive is available to all those who pay federal taxes. You'll get back 26% of what you spend on your solar energy system back through a tax credit.
In addition to this tax credit, businesses can take advantage of 100% bonus depreciation. With this, you can push all the tax savings from the depreciation of the solar system to the year the system is placed into service.
On a state level, there's a solar property tax exemption. Installing solar can increase the value of your home, raising your property taxes. But in Virginia, your taxes won't go up. That said, local municipalities have the option to forgo this exemption, so it may not be available everywhere.
Virginia also requires their utility companies to offer net metering. This is a great solar-friendly program that helps you maximize your solar investment. You'll upload that extra electricity to the utility grid with net metering. In exchange, you'll get a "credit" for each kilowatt-hour of electricity. That credit can be exchanged for a kilowatt-hour from the utility at any time.
Is Solar Energy A Good Investment in Virginia?
The federal tax credit, accelerated depreciation, and net metering help to keep the payback period short, so you can save more with solar energy. And in addition to the money you're saving, you're also helping to reduce air pollution and your carbon footprint, which can go a long way in keeping Virginia beautiful.
So while the cost to install solar panels in Virginia may seem high, the return on that investment is even higher. With a lifespan of at least 25 to 30 years (the length most quality solar panels are guaranteed for), your system will produce tens of thousands or even hundreds of thousands of dollars of free electricity. And with Virginia's high rates, you can stand to save even more.
If you're ready to take advantage of those savings, the next step is to get a custom quote. Use the button below to get started.