If you are reading this, you probably are curious about trends that are occurring in the solar market and you may be thinking about whether a solar system should be in your future. Solar PV installs are becoming more and more common. We see them as we drive down the roads, or fly over the countryside and our neighbors may have one. In some ways they aren't very newsworthy anymore because they aren't new "news". The technology has matured, the hardware has proven reliable and it's becoming less expensive. Solar has become mainstream. Solar is the largest growing sector of new electricity capacity in the U.S.
So today I want to talk about a couple market trends. First, the rate of installs: If you think solar installs are slowing down, think again. The chart below shows the continued growth of solar installs in the U.S. over the past 5 years by quarter. You will notice that Q4 of each year is often the highest. That is because the end of the year tax credit deadline frequently triggers higher installation activity as people try to take advantage of the tax credits.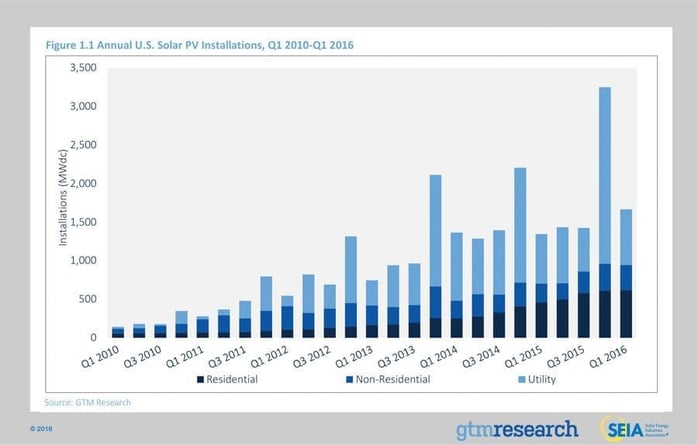 And take a look at the estimated install forecast for the next 5 years in the GTM chart below! Continued significant growth.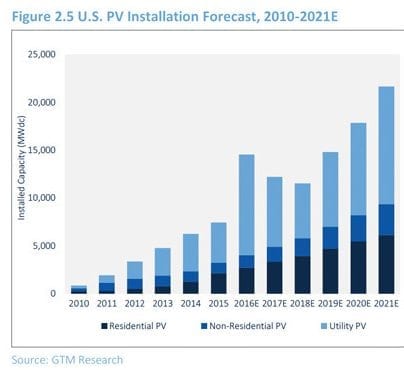 So what is fueling this continued growth trend in solar PV installs? There are certainly many reasons, but a rather obvious one is the continued improvement in the benefit/cost ratio. The chart below from the US DOE SunShot program shows this declining cost of solar, and their forecasts show the downward, and flattening of that, trend continuing.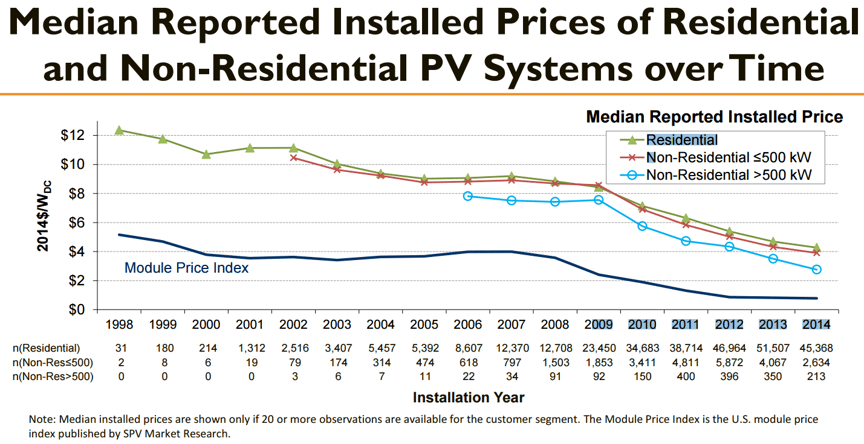 So what do these trends mean? Solar is going to continue to be a great option for providing your electricity. As installs have increased, manufacturers have been able to capitalize on increased volumes to drive costs downward. Those lower costs mean more affordability, which means even more systems installed which in turn has driven prices even lower. This phenomenon has been going on in the solar industry for years now, but will it continue forever? The flattening of the module price index and system costs is projected to become even flatter in the years ahead. And incentives continue to be reduced or end in many areas. This combination of lower, but flattening costs and still-in-place incentives (like the 26% tax credit) would seem to indicate that now is a great time to still take advantage of these by investing in a solar generation facility for you and your family or business.
And there is one other trend you should be interested in if you are considering installing a system. A recent article from Green Tech Media stated that smaller regional solar installers, like Paradise Energy Solutions, continue to grow and increase market share while the largest national installers are losing market share. They pointed to a probable reason for this. On most construction projects of various types people usually choose to work with a local-based company they know and can trust, and who will be around to maintain and support their investment. At Paradise Energy Solutions we are committed to doing just that, and we believe it makes a huge difference in your experience with your long-term investment in solar. Give us a call or send us a message today, we'd love a chance to earn your trust and help you discover if now is the time for you to make a great investment in your future.