Installing a solar system on your roof is a great way to take advantage of underused space. While roofs provide the obvious benefits of keeping us safe and dry, we can't use them for much else. With a solar system, however, you can use the space to create cost-free and emissions-free electricity.
If you're considering installing a solar system, you may be questioning whether or not your roof can actually support the additional weight. That's a valid concern, and we're here to help.
How Much Do Roof-Mounted Solar Panels Weigh?
When it comes to the exact weight of a solar panel, it will vary from brand to brand and model to model. While solar panels are not extremely heavy, they're built solid to withstand all kinds of environmental pressures.
Most 60-cell PV solar panels are somewhere in the range of 35 to 45 pounds, with the majority settling around the middle of this range at 40 pounds. This weight is spread out over the full surface area of the panel. At roughly 5.5 feet by 3.25 feet, a solar panel ends up being around 2.3 pounds per square feet.
72-cell panels will weigh a few more pounds, but because the weight is spread out over a larger surface area, the weight-per-square-foot is about the same. The average weight of a 72-cell solar panel is just over 50 pounds. With a rough dimension of 6.6 feet by 3.25 feet, which ends up being 2.4 pounds per square feet.
Typically, either 60-cell or 72-cell solar panels are used for residential solar installations, but only 72-cell panels will be used on commercial installations.
At Paradise Energy, we offer our customers three brands of solar panels we've found to be the best combination of performance, quality, manufacturer warranties, and cost. These panel manufacturers are AXITEC Solar, Hanwha Q CELLS, and LG Solar. Here's a quick look at how much these manufacturers' 60-cell and 72-cell solar panels weigh:
| | | |
| --- | --- | --- |
| Solar Panel Brand & Size | Total Weight of Panel | Weight per Sq. Ft. |
| AXITEC Solar 60-Cell | 40.8 pounds | 2.28 pounds |
| AXITEC Solar 72-Cell | 51.8 pounds | 2.39 pounds |
| Q-Cells 60-Cell | 43.9 pounds | 2.27 pounds |
| Q-Cells 72-Cell | 51.8 pounds | 2.39 pounds |
| LG Solar 60-Cell | 38.6 pounds | 2.08 pounds |
| LG Solar 72-Cell | 44.8 pounds | 2.01 pounds |
LG Solar offers the lightest options and they are among the industry leaders in efficiency and quality. However, they will be one of the more expensive options.
In addition to the solar panels themselves, there will also be mounting equipment installed on your roof to ensure the panels stay in place. This racking adds a small amount of weight to the solar system.
Can Your Roof Support the Added Weight of Solar Panels?
In the vast majority of solar installations, let's say 95%, the existing roof can adequately handle the additional weight of the roof-mounted solar system.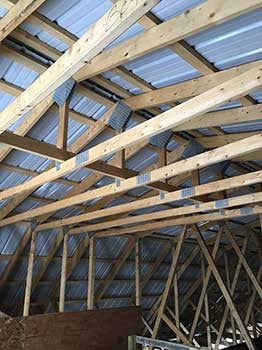 However, we need to be sure your roof falls within that 95%. To do this, a third-party architect or structural engineer will evaluate your building and the solar system that's been designed for your property. If they find that the roof can adequately support the weight of the panels, they'll provide a certified letter stating their approval.
If they find that the roof cannot support the added weight, they'll recommend what changes need to be made in order to safely install the panels. These could include things like repairing or replacing the roof or adding additional support to the rafters or beams
You and your solar installer will review these changes to see if they fit your goals for the project. If they do, the changes will be made and the revamped structure will be reevaluated. If the structural engineer deems the structure safe, they'll give their letter of approval and the solar installation can start.
How Will the Weight of Snow on Your Panels Impact Your Roof?
The next question for those of us that live in areas with heavy snow storms is "what about the added weight of snow?" You can rest assured the structural engineers will take into consideration the average snowfall amounts for your area when they evaluate your structure and the proposed solar system.
Your solar panels and roof will not be affected by snowfall except for rare extreme cases. Solar panels are assigned a pressure rating that measures the amount of pressure a panel can handle before the added weight will hurt the panels. This rating is 5,000 or more Pascals (Pa) for most panels, which allows for the accumulation of two to four feet of snow.

Pro tip: We do not recommend cleaning snow off your panels. Here's how to take care of snow on your panels.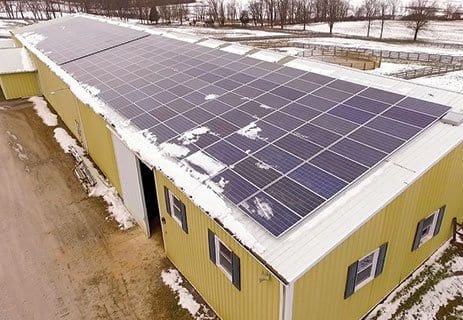 What Will the Panels Do to Your Roof?
As long as a structural engineer signs off on your solar system, you can trust that the panels overhead are safely mounted to the roof and will not have adverse effects on your roof or building.
Your roof should not leak, assuming the solar panels are installed according to industry-standards. Solar panels can be installed on all types of roofs. Depending on your roofing type, penetrations may or may not be necessary. If roof penetrations are required, extra care will be taken to prevent any leaks.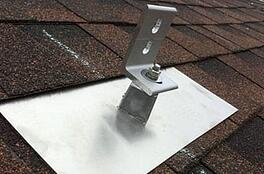 For asphalt shingles, a piece of flashing is installed beneath the shingle so the lag bolt can be set into the rafter with no potential for leaking.
For corrugated steel roofs, a specifically designed bracket with the same galvanized roofing screws used by roofers in the installation of the roof is used to mount the panels.
For standing seam roofs, no roof penetrations are required. Instead, the panels will be held in place with a clamp that attaches right to the roof's seam.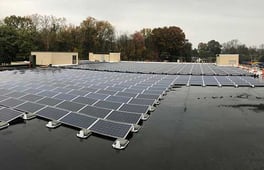 For flat roofs, you can opt for a ballast roof mount, which uses the weight of cinder blocks to hold the panels in place. This method does not require roof penetration either.
How Long Will My Roof Last with Solar?
When it comes to the longevity of your roof below a solar system, solar panels should not have an adverse effect. They may actually have a positive effect. If you have a warranty on your roof, your solar installer should double-check with your roof contractor and/or manufacturer to ensure the solar attachments won't void your warranty.
The solar panels will be installed a few inches above your roof and can act as shields for the roof, bearing the brunt of the elements, from rain to hail to snow. This may help extend the lifespan of the roof.
Solar panels are meant to weather the elements, and manufacturers back this claim up with generous warranties. All solar panels should be guaranteed against specific weather occurrences, like hail up to a certain size and winds up to a certain speed.
However, solar panels aren't indestructible. Superstorms, hurricanes, and tornadoes can produce extreme weather that falls outside of the manufacturer's warranty. In this case, your insurance should cover damage to the solar system.
Are Solar Panels Safe on My Roof?
Solar panels can be safely and securely installed on the vast majority of roofs without the need for additional support. However, no solar system should be installed without an architect or structural engineer first evaluating the proposed system and the structural integrity of the building.
Once they have signed off on your installation, you can rest assured that the solar panels won't interfere with the long-term health of your roof or cause any leaking.