"Find it here" – this is the greeting on the sign as you enter the Buckeye State. While there certainly are lots of great things to find and explore here in our state, solar energy may not rise to the top of your list.
Northeast Ohio especially is well known for its changing weather and more than its fair share of cloudy days. If I had a nickel for every time someone mentioned the Ravenna Arsenal to me and the reason it was built there, I could probably retire early.
Well regardless of first thought and contrary to myth and legend: solar is alive and well in Ohio.
I've had a solar energy system on my home for almost 5 years now and have been helping people think through the process and understand the nuances of solar energy for over 8 years. Utility bills can sometimes be confusing and overwhelming, few people take the time to truly understand the charges but rather just close their eyes, grit their teeth and pay the bill. There may be a better way.
Solar isn't right for everyone either, but it may be an excellent opportunity for you. If you are looking to lower your long term electric costs for your business, farm or home a solar energy investment may be a great option.
While there are a host of reasons for going solar, it is important to understand some of the uniqueness of Ohio's net metering rules and other state guidelines before deciding to install a solar system.
Here are 8 things you need to consider in Ohio before going solar.
1. Ohio Net metering rules
Net Metering laws vary by state and within Ohio net metering rules can vary between utility companies. Net Metering is the billing mechanism that allows you to send your excess solar power back to the utility during the day and use those kilowatt- hours (kWh) overnight or during inclement weather. The flow of current is measured with a bi-directional meter installed by your utility company. This bi-directional flow of energy eliminates the need for battery storage and provides some benefit to the utilities as excess power is typically generated during peak or high demand times on the grid. While day to day your kWh's are traded with the utility one for one, what happens when your solar system gives you a net negative at the end of the billing cycle?
2. What happens to excess generation?
It is fun to see a credit on your electric bill any time, but negative billable kWh's are typically only credited at a "wholesale" or generation rate, not the full value of your kWh costs. The utilities retain the cost for the Transmission and Distribution portion of your electricity for using their lines to store and deliver your excess power. Why is this important? If your goal is be green no matter the cost, then it's probably not as important as it is to the individual that is looking for an opportunity to maximize an investment opportunity. Buying more panels but only getting a portion of the value may actually hurt your return on this investment.
3. Will I still have a utility bill?
The short answer is yes. As long as you are connected to the utility grid you will still receive a monthly statement with an amount due or possibly a credit balance.
As mentioned above it is possible to produce more kWh's than are used in a billing cycle. Keep in mind that most utilities have some fixed charges for each meter that will apply each month regardless of the amount of energy you use or send back to the grid.
Demand related charges on non-residential services will also remain; it is highly unlikely that your solar system will provide any costs savings to these charges.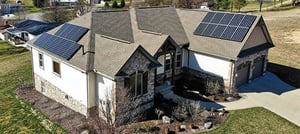 Here is my personal example, my kWh cost today is about $0.11, this includes generation, transmission, distribution and the billable kWh riders associated on my bill, not including the fixed monthly charges. If my system produces more kWh's then I use for example in the May billing cycle and I have a negative billable number of 100 kWh's, I get a credit of about $0.053 per kWh or $5.30 for the generation value. I will still have a bill for $8.33 yet with my fixed monthly charges. Still, $8.33, anybody want to trade? Sorry. I am good here.
Make sure you understand your utilities net metering rules and how your monthly production and usage will impact your return on investment. Ask for a monthly output versus usage report that can help you better understand what your bills may look like.
Competitive Retail Electric Service or CRES Providers typically will not provide credit for net excess generation; it may be good to return to your local utility for the supply or generation portion of your bill to fully benefit from net metering.
4. Utility interconnection approvals
If you're already speaking to a solar energy contractor, make sure you understand their process for seeking your utilities approval prior to the actual start of construction.
Requirements for disconnects and other monitoring equipment can and do vary between utility companies. If your contractor installs your system prior to getting this approval, you will be in for a frustrating experience especially if additional equipment and or any changes need to be made prior to the approval of the solar system.
Ohio utilities provide an invaluable service, one that most of us don't think about at all until a storm rolls through and takes the power out. The safe operation of your solar system is vitally important to minimize the risk of hurting a lineman that is trying to repair your service after an outage.
5. How much can I produce?
The latest ruling from the PUCO is that a renewable energy system can produce up to 120% of a customer's electricity per meter. However, most utilities will limit approvals for interconnection with the intent of overproducing without proving the intent to increase annual usage (think adding an electric car or a new piece of manufacturing equipment that will increase energy consumption). Find out how your utility handles annual excess energy if you plan to push those limits and be sure you understand it.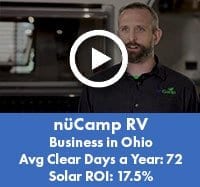 6. Can you use the tax incentives?
These are currently in the process of sun-setting. If your system is installed by the end of 2022, you are eligible for a 26% Federal Income Tax credit. This credit steps down to 22% in 2023 and to 10% for Agriculture and Businesses and 0% for Residential systems in 2024. Ag and Businesses can also take advantage of Depreciating the investment.
Be sure to speak with your accountant to verify you can take advantage of the tax incentives.
7. Does your utility require proof of insurance?
Most, not all, of the utilities require proof of liability insurance before approving your interconnection. Speak to your insurance agent and understand any additional cost to your premium to protect this investment and comply with utility requirements.
8. Protect your asset by selecting the right installer
Solar energy is a long-term investment. It's critical to select an installation partner that has experience working with Ohio utility companies, applying for permits, and will stand behind their workmanship and warranties. We put together a list of questions to ask yourself when evaluating a solar installer. Use these to guide your selection process.
At Paradise Energy Solutions, our 1,300+ clients are family and our commitment to them is a long-term one. We are committed to being your honest, upfront partner for the life of your system. Check out our reviews for an inside look at what it's like to partner with us.
Are you ready to learn more about a solar installation in Ohio? Then schedule a site visit with one of our Solar Consultants. If you're not ready just yet, spend some more time browsing our educational blog posts or download our solar buying guide.