If you're considering solar for your Ohio-based business, now is a good time to make the switch.
Prices for solar in Ohio have dropped 47% in the last year alone (as of Q2 2018). This drop in cost means you break even faster and start generating free electricity sooner.
A 50 kW to 100 kW commercial solar system typically costs between $130,000 and $250,000 before financial incentives are applied. With available incentives, you could recoup 26% to 75% of the system's cost within the first year.
The average commercial solar system can save you $100,000 to $350,000 over the 30+ years of the solar system's life.
Average Commercial Payback and ROI in Ohio
These numbers are averages based on projects we have completed in Ohio.
Payback is the amount of time to re-coup up-front costs.
ROI is the annual rate of return over a 30-year period.
Ohio Tax Incentives
A Real-World Example From Ohio
To illustrate a cost situation, we've highlighted nüCamp, a manufacturer of RVs and teardrop trailers based in Sugarcreek, OH.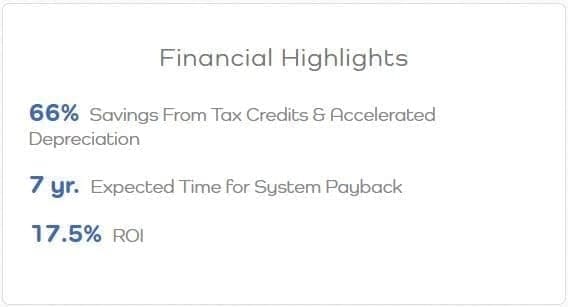 System Overview
1,909 solar panels and 15 inverters
629.7 kW system
643,527 kWh (First year production)
Will Solar Panels Work in Ohio?
The short answer is yes. But first, let's explore a bit about how we estimate solar production.
Solar power estimates are based on a measurement called a Peak Sun Hour (PSH). A PSH represents the amount of solar energy available during a day. The average PSH in Ohio is 4.15 hours per day (based on fixed-tilt solar panels).
For comparison, look at Germany.
Germany is not known as a sun-drenched country. However, Germany has long been a leader in global solar output. In 2014, Germany produced 177 GW from solar power (1 GW is about equal to the output of a large natural gas or nuclear power plant.)
Peak Sun Hours (PSH) in Ohio Cities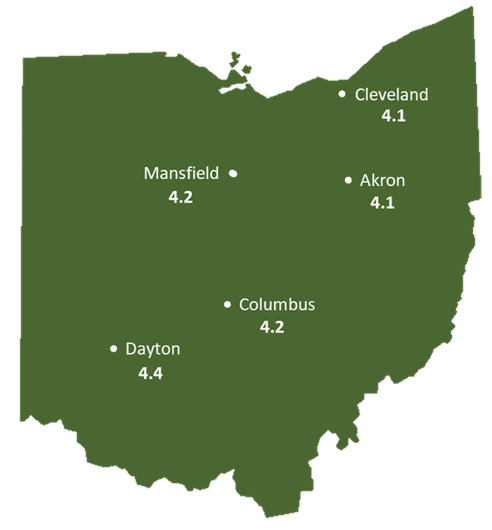 Source: turbinegenerator.org
Notable Commercial Solar Installations in Ohio
Campbell's Soup in Napoleon. Solar installation provides 15% of the facility's electricity.
Assurant in Springfield. Added 6,200 solar panels on rooftops and 15 new parking canopies.
Solar Resources for Ohio Businesses
Ohio Solar Statistics and Policies
>SEIA - Ohio Solar Policy
Ohio Solar Incentives, Rebates, and Grants
>Database of State Incentives for Renewables & Efficiency (DSIRE)
>Clean Energy Authority
Resources From Our Blog
>Cash Purchase vs. Operating Lease vs. Capital Lease
>Advantages of Solar Power for Your Commercial Property
Find Out If Solar Makes Financial Sense For Your Business
The first step to making a great solar investment is to receive a no-obligation custom quote. We'll evaluate your current energy usage, conduct a site assessment, go over financing options and incentives, and provide you with a free detailed quote that shows the cost, ROI, and a year-to-year cash flow.