There's no one-size-fits-all solar system, which makes nailing down the average cost of solar in New York a little tricky. Pricing will vary with the amount of electricity you use, the system's size, the components you choose, and the solar incentives available. And with Upstate's cloudy weather, is an energy source dependent on sunshine worth the cost?
From Syracuse in Central New York to Rochester, the Finger Lakes, and Mohawk Valley, solar panel systems can be a profitable investment for homes, businesses, and farms alike.
In this blog, we'll break down some general costs for a solar panel installation in New York State.
The Average Price of a Roof Mount vs. Ground Mount
There are two ways to install solar panels: as a roof mount, or as a ground mount. The option you choose will impact the system cost.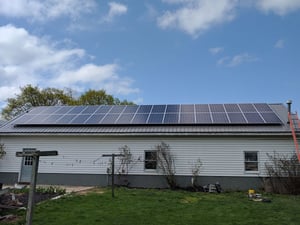 Roof mounts utilize the roof of an existing building to support the solar panels. Ground mounts require the construction of a separate, free-standing structure on which the solar panels are attached.
Ground mounts tend to be more expensive because of that new supporting structure. However, it offers the freedom to install your system in a location to maximize production.
Federal and New York State Solar Incentives
In addition to the decades of free electricity solar power provides, various incentives help sweeten the pot. These incentive programs are offered both on a federal and state level to encourage the installation of renewable energy by reducing installation costs.
On a federal level, there's the solar investment tax credit (ITC). This allows you to recoup 26% of the installation cost through a tax credit. All solar owners who pay federal taxes qualify for this solar tax credit.
There's also 100% bonus depreciation, which allows businesses to accelerate all the tax savings from depreciation to the first year the system is placed in service. This helps to further frontload the solar investment.
On a state level, the NY State Solar Energy System Equipment Tax Credit offers a 25% tax credit for residential solar systems which caps out at $5,000. There's also the NY-Sun Megawatt (MW) Block Program (NYSERDA incentive), which offers up to $1,000/kW installed by both homes and businesses.
If you're a National Grid customer and are installing solar on a food-producing property, like a farm, vineyard, or orchard, you can qualify for this additional grant. The amount varies based on the cost of the system:
$25K Investment – $5K Grant
$25 – $100K Investment – $10K Grant
$100 – $500K Investment – $25K Grant
Over $500K Investment – $50K Grant
Lastly, your solar system may be exempt from sales and property taxes. New York offers a sales tax exemption on purchases related to the installation of solar systems. And because solar increases in the value of your property, the state also waives any increase in your property taxes related to solar.
However, municipalities are able to forgo this exemption, so it won't be available everywhere in the state. Here's more information on the available solar incentives in New York.
The Cost of Installing Solar Panels for New York Homes
The following chart shows the average cost for homeowners to install solar panels in New York. As cost varies with the kilowatts (kW) size of your system, we broke it down based on how much you typically spend on electricity each month.
These figures take into account only the most widely available incentives (federal tax credit, NY tax credit, and the NYSERDA incentive), so depending on your circumstances, the net cost could be even lower.
Solar Installation Cost for NY Homeowners
Average Monthly
Electric Bill
Solar System Size
Total Installed Cost
(Before Incentives)
Cost After the Tax Credits and NY-Sun
$60

5 kW

$24,470

$11,358

$120

10 kW

$34,170

$16,786

$180
15 kW
$48,225
$25,436
The Cost of Installing Solar Energy for New York Businesses & Farms
The charts below show the average cost of a commercial or agricultural solar system in New York. It takes into account the three widely available incentives, the ITC, 100% bonus depreciation, and the NY-Sun incentive.
It does not include savings from the NY-Sun Megawatt Block Program, as availability will vary with location and year. It also excludes the National Grid Grant.
Solar Installation Cost for NY Businesses and Farmers
Average Monthly
Electric Bill
Solar System Size
Total Installed Cost
(Before Incentives)
Cost After the Tax Incentives and the NY-Sun
$600

50 kW

$131,600

$38,418

$1,200

100 kW

$238,900

$65,588

$2,400
200 kW
$429,400
$108,771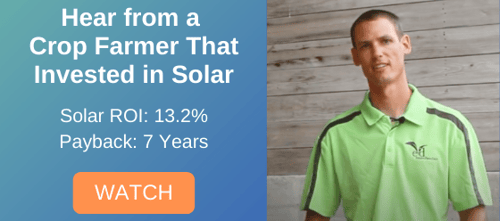 Is Solar Energy Worth it in New York?
Upstate New Yorkers don't enjoy a preponderance of sunny weather, whether they're in the Finger Lakes Region, Central New York Region, or further west in Buffalo. However, solar energy has proven itself to thousands of homes and businesses in the state as a profitable and reliable renewable energy source.
If you're wondering if your property gets enough sunshine for solar, we have answers. Check out this blog to learn more.
The 30-year savings depicted in each chart is based on electricity rates at the time you install your system. In the 30+ years of your solar system's life span, your utility's electricity rates will likely increase. That means the savings could be even greater.
The money you spend on a solar system will likely be made back and then some, thanks to the free solar electricity your system produces. With panel warranties lasting 25 to 30 years, you can expect decades of free electricity from your system. Those savings add up quickly.
If you're ready to get specific numbers for a solar system that best fits your needs, use the button below to request your free quote.
If you're not ready for a quote, we have additional resources for you too. Download our solar buying guide to get answers to many of the important questions that should be answered before investing in solar energy.