There are hundreds of solar panel manufacturers out there. With so many options, it's hard to narrow down that list to find the panels that are best for you. That's why we've picked 10 of the top solar panel brands available in the United States.
What Makes a Solar Panel Good?
In order to do this, we took a look at a few different factors. Keep these in mind. They'll help tell you how well the panels will work and what protection you'll have in case they don't.
Warranties
A comprehensive warranty lasting years, even decades, not only gives customers confidence, but it shows the confidence the manufacturers have in their product. A company producing unreliable and shoddy equipment couldn't afford to have a 25-year warranty. A warranty is a measure of the quality of the solar panel, backed up by the company that's making it.
There are two main warranties you'll want to take note of. One is the product warranty or the equipment guarantee. This protects your panels from defects in material or workmanship issues during the manufacturing process.
The second is the linear performance warranty. This is a guarantee from the manufacturer that your panels will stay above a specified degradation rate over a certain period of time. For example, your manufacturer may guarantee that your solar panels won't degrade more than 20% after 30 years of use, so your solar panels will still be producing 80% of the power at year 30 as they did on day one.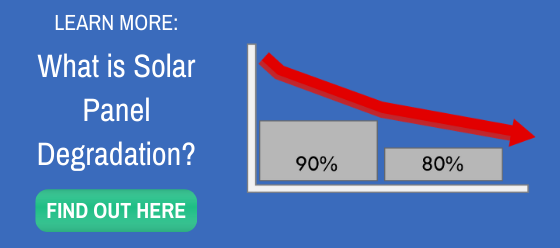 Module Efficiency
Module efficiency is a measure of how much energy the solar panel produces from sunlight. Opting for more efficient panels could, in some cases, mean needing fewer panels. This could be important if you're limited for space. Most in the industry consider 18%+ high-efficiency panels.
Price
The price of the solar panels will be a factor for probably 99% of people looking to go solar. While more efficient, higher-quality panels will cost more, they may save you more in the long run.
Reviews
See what others are saying about these brands of solar panels. Look for customers who have had these panels for a few years. For our list, we took a look at the Top 20 Solar Panels in 2020 based on SolarReviews.com's customer ratings.
The Most Popular Solar Panel Brands
There are a lot of great solar panel manufacturers out there, but here are a few of the most popular (in alphabetical order).
| | | | | | |
| --- | --- | --- | --- | --- | --- |
| PANEL MANUFACTURER | MATERIAL WARRANTIES | PERFORMANCE GUARANTEE | MAX MODULE EFFICIENCY | PRICE | REVIEWS |
| AXITEC Solar | 15 years | 85% After 25 Years | 19.41% | $$ | 4.84 based on 70 reviews |
| Q-Cell | 12 years | 85% After 25 Years | 20.2% | $$ | 4.81 based on 394 reviews |
| JinkoSolar | 10 years | 80% After 25 Years | 21.4% | $ | 4.66 based on 71 reviews |
| LG Solar | 25 years | 90.8% After 25 Years (LG NEoN-R) | 21.7% | $$$ | 4.76 based on 600 reviews |
| Mission Solar Energy | 12 years | 80.2% After 25 Years | 18.95% | $$ | 4.76 based on 198 reviews |
| Panasonic | 25 years | 90.76% After 25 Years | 20.3% | $$$ | 4.85 based on 274 reviews |
| Peimar | 20 years | 79.9% After 30 Years | 19.36% | $$ | 4.72 based on 29 reviews |
| REC Group | 20 years | 85.5% After 25 Years | 21.7% | $$ | 4.60 based on 48 reviews |
| Silfab | 12 years (25-year extension available) | 80.3% (Mono) or 79.5% (Poly) After 30 Years | 19.4% | $$ | 4.85 based on 364 reviews |
| SunPower | 25 years | 92% After 25 Years | 22.8% | $$$ | 4.67 based on 364 reviews |
Panels We Offer
While all those listed above could be a good option for you, here are the four panel brands that Paradise Energy Solutions offers our customers.
AXITEC Solar
Customers have options with this German-based brand if they're looking for higher-end panels, as well as panels for a bargain. You can expect panels with efficiencies ranging between 17.0% to 19.41%.
AXITEC offers a 15-year product warranty and guarantees that after 25 years, the panel will still produce at least 85% of the energy it did in year one.
70 AXITEC customers have given their panels 4.84 stars on SolarReviews.com, placing them in the site's top 10 panel manufacturers.
Hanwha Q CELLS
The South-Korea-based Hanwha Q CELLS offer their customers a high-quality product for a great price, making them a popular and well-reviewed option. They offer panels with efficiencies ranging from 17.3% to 19.6%.
Many of their panels come with a 12-year product warranty and are guaranteed to degrade no more than 15% over 25 years. That means your Hanwha panels will still produce 85% after 25 years.
Hanwha is a tier-one solar panel manufacturer backed by a FORTUNE Global 500 firm. That means they're stable and aren't going anywhere. You can rest assured they'll be around for the next 25 years to honor that warranty.
This value has earned them some great reviews. Their panels have a 4.81-star rating from 394 people on SolarReviews.com
LG Solar
LG tops SolarReviews.com's Top 20 solar panel brands and is generally regarded as one of the leaders in high-quality, high-efficiency solar panels. You can expect efficiencies ranging from 19.6% to 21.7%.
These efficient panels are backed by a 25-year product warranty - one of the best in the industry. In addition to that, LG's solar panel division is backed by all of LG Electronics, a 60+-year-old global tech giant. That means if in the unlikely event LG gets out of the solar industry, their solar panel warranties will still be backed up by LG Electronics.
As far as the degradation rate, LG panels have one of the best in the industry. For their LG NeON-R panels, they will produce no less than 90.8% energy after 25 years.
Despite their higher price compared to other manufacturers on this list, many of their customers are satisfied with the product. They've earned a 4.76-star rating from 600 owners on SolarReviews.com.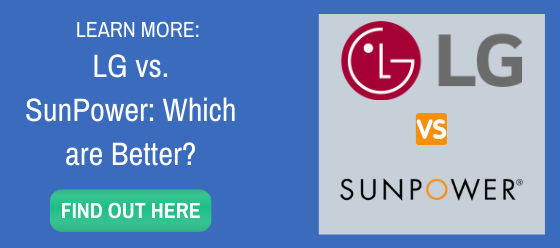 Peimar
Peimar offers high-efficiency, Italian-made solar panels. They have panels with efficiencies ranging from 19.05% to 19.36%.
They back their panels with a 20-year product warranty and a 30-year performance warranty. Their performance warranty guarantees that their panels will produce at least 79.90% of their initial power 30 years later.
While more expensive than the cheaper panels on this list, they're not quite as expensive as the top panels. Peimar is one of the middle-of-the-ground options.
They've earned them 4.72 stars based on 29 reviews, according to SolarReviews.com.