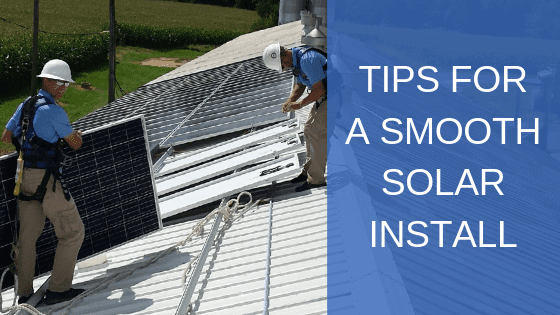 You've made the decision and signed on the dotted line. You're going solar, and you're in for decades of producing free, clean energy. While solar energy is a low-maintenance investment that lets you sit back while the savings roll in, you may not want to take your hands off the project quite yet.
If you've teamed with a quality solar installer, chances are, you won't have anything to worry about. You'll enjoy a simple and smooth solar panel installation. But it's never a bad idea to keep an eye out for potential issues and get ahead of them.
From partnering with the right solar installer to understanding how much your system produced in the first year, we've got you covered. Follow these tips and you'll have a smooth solar installation for your farm, business, or home.
Quote-Gathering Stage
Comparing Apples to Apples
With any purchase of this size, it's imperative to get multiple quotes. But when you're evaluating your estimates, make sure you're comparing apples to apples. One company may quote you a smaller system with less expensive equipment, and another may quote you a system that covers 100% of your electricity with quality parts that won't have to be replaced as quickly. While the first company has a lower price, the second company could save you much more money in the long run.
Ask each company to review their quotes with you, and don't be afraid to ask questions about the system's design, equipment, and price.
The Cheapest Isn't Always the Most Valuable
With an expected lifespan of about 30 years, your solar energy system is in it for the long-haul. You need a solar contractor that will be, too. Partnering with a solar installer that stands behind their work and is knowledgeable and experienced can save you a lot of headaches down the road.
Check out the solar installer's reviews and see what other people are saying about them. If multiple people are saying the same thing, you'll likely have a similar experience. Looking into their past projects, qualifications, and business structure will help you see whether or not they're a stable company likely to be around to honor their warranties.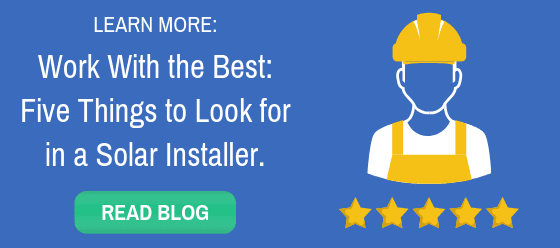 Be Prepared for a Site Visit
How much electricity your system produces is dependent on a variety of environmental factors. To understand these, your installer will need to come out and visit your site. They'll take a look at your building's orientation or available ground space. They'll look at your breaker panel box, transformer, and other items that will help provide an accurate quote.
The site visit should also include a discussion with you about your goals and objectives for going solar. Because solar isn't a one-size-fits-all solution, this information will help your solar contractor design a system that is right for you.
Pre-Installation Process
Knowing the Exact Location of the Solar Equipment
Whether it's information that was provided in the project's quote or during a discussion with the project manager, you're going to want to know the details. Most solar installers provide a mock-up of the installation before the project starts, but how inclusive is it? Do you know exactly where the panels will go? How about the inverters or batteries?
Building codes and regulations will protect you and your property from any serious issues regarding the location of the system, but it's always a good idea to have a full grasp of the project before the roof-mounting or post-pounding occurs.
While your solar company is an expert on the system's components, they're likely not as familiar with your property. Ask for a copy of the permit application before it's submitted to make sure they didn't make any incorrect interpretations of the site.
Review the location of all the components and make sure you're comfortable with where they're positioned for the extent of your system's expected lifespan - which is around 30 years.
Understanding the Project's Timeline
As the solar market ramps up, installation schedules are moving further and further out. Ask your solar installer what the timeline looks like for your project - both leading up to and during installation. While installation can take a couple of days to a few weeks (depending on the size and complexity of the system), permitting and approvals can take some time.
And just because the solar panels are installed, your project isn't necessarily ready to be turned on. The project must first go through inspections and receive approval to operate. Having a good idea of the project's schedule will help you know what to expect so you can plan accordingly.
Understanding Your Equipment's Specifications
There's a good bit to learn before deciding to go solar. There's also a good bit to learn throughout ownership. Make sure you understand what you're getting. While some solar systems are designed for cost-efficiency and performance, others are designed to look good on your home or business.
Regardless of what was right for you, it's a good idea to know what your equipment can do.
Get a copy of your solar panels' spec sheets, which will tell you how efficient your panels are, how much weight from snow they can sustain, their tolerance to wind, and more. Local codes require solar installers to design systems that can withstand local weather hazards. To ensure the system follows these guidelines, the final design will be signed off on by a structural engineer.
While solar systems are built to withstand the worst mother nature throws our way (and they've proved it by weathering many severe hurricanes, storms, and blizzards) it never hurts to know the limitations.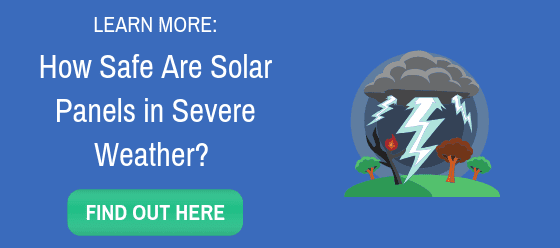 During Installation
Establishing and Maintaining Communication
While this is important at every stage of the solar process, you and your solar contractor should maintain effective communication throughout the project. Ask who is the best person to contact and ask what is the best way to contact them. Being available to your contractor and having someone you can reach with any questions or concerns during the process is key.
Depending on your project's scope, it's a good idea to check in with them daily. Ask for updates on the day's work and what is planned for tomorrow. You'll be able to make sure things are on track. It also allows you to ask questions and voice concerns.
Clearing the Way
As with any contractor, it's a good idea to keep the work area clear and ready for the crew. Check-in with the team before or at the beginning of the installation to understand where they'll be working and what they'll need access to.
Relocate anything that could be a potential hazard or an obstacle in the areas of the installation. This will help your contractor work more efficiently and will keep your stuff and the crew safe.
Asking Questions
If you're unsure why something needs to be or doesn't need to be done, don't be afraid to question it - and keep asking until it's clear. If something is not going the way you'd like, speak up. If you need to make changes, communicate clearly what you'd like them to do.
Post-Installation
Making Sure the System Produces What It Should
If you decided to go solar, chances are, the numbers looked pretty good on the estimate.
A good way to check how that estimate measured up is with your system monitoring software. This application will tell you how much your system produced each day. Compare your monthly and yearly production with your estimate to see how it stacks up.
A spike in your electric bill could mean something is wrong with your system, or that the production estimates were off.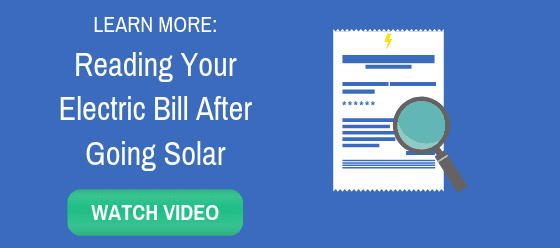 At Paradise Energy Solutions, we offer our Triple Ten Guarantee, which includes a ten-year production guarantee and ten years of system monitoring. You can be sure that a system installed by us will deliver. If not, we'll write you a check for the difference.
Knowing The Proper Maintenance and Upkeep
One of the great things about investing in a solar system is its ability to save you money with relatively little effort. But performing unnecessary maintenance could eat into your savings.
You may hear that solar panels need to be cleaned, but in most areas of the country, rain does a great job of keeping dust and dirt from building up on your system and causing a measurable loss in production.
However, more persistent grime like excessive bird droppings may make cleaning worthwhile - but be careful. Not only can cleaning your solar panels (especially roof mounts) be dangerous to yourself, but they can also be bad for your panels. Unless using the proper items or hiring a professional, you could damage your panels and void their warranty.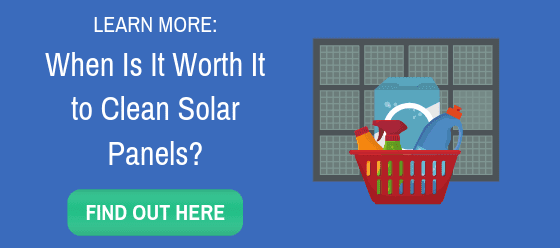 Another common service we're asked about is clearing snow off your panels. In most cases, clearing snow off won't be necessary. Panels warm up pretty quickly in the sun. That, coupled with solar panels' pitch causes the snow to melt and slide right off your panels not too long after the clouds clear.
As with cleaning dirt off your panels, clearing the snow off can be riskier than it's worth. For just a few extra hours of energy production, you're risking your own safety and your solar panels' warranty.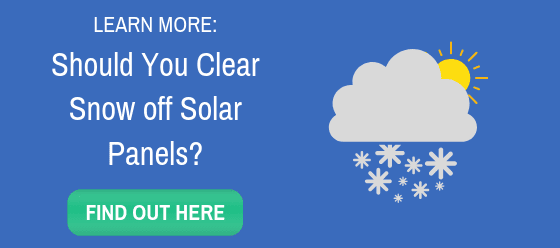 Understanding the Plans for the Future
Because solar panels have few moving parts, it's not too likely they'll need a lot of maintenance and upkeep. However, things can happen. Make sure you understand and have documents detailing the warranties offered by the manufacturer and your solar installer.
It's a good idea to ask who is the best person to get ahold of in case something goes wrong with your system down the road.
If you're working with Paradise Energy, we strive to make this process easy for you. You'll receive contact information, along with equipment specifications, warranty paperwork, permits, information on your production guarantee, and more in your project closeout binder.
Selling SCRECs
At this point, you may already be familiar with solar renewable energy credits (SRECs). These are credits you receive for generating clean energy, as long as you live in a state with an SREC market.
For every 1,000 kilowatt-hours (kWh) produced by your system, you receive 1 SREC to sell. The value of SRECs will vary based on the supply (number of qualified producers) and the demand (the number of credits the utility company needs to purchase).
Because prices fluctuate according to demand and policy changes, selling SRECs can be tricky. Some companies in the solar industry (including Paradise Energy) will manage your SREC portfolio for you. Find out if your solar installer offers this service and what working with them entails. If there is an SREC market in your state, your solar system will earn you some extra money!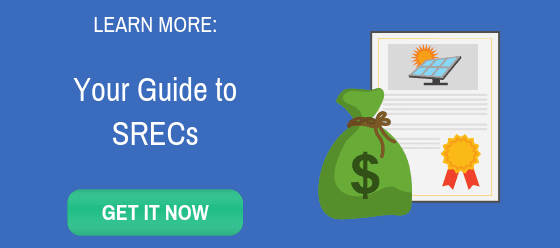 Steering Clear of Third-Party Energy Suppliers
You may be contacted by a third-party energy supplier if they're permitted in your state. These are companies that purchase electricity from your local utility at a bulk rate and sell it to you, instead of you buying it from your utility directly. While third-party energy suppliers can be a great option for many looking to lock in or lower their electricity rates, for solar owners, there's a huge downside to signing with one: you'll lose out on net metering.
Net metering (as long as you live in one of the 38 states that have it) gives you credit for the kWh produced by your solar system not used at the time of production. When your solar system is not producing energy (like the middle of the night) but you need electricity, you draw power from the grid for "free" until your credit runs out.
Net metering is important to solar power's payback. Without it, you're only offsetting your electricity costs when you're using electricity while the sun is shining. Losing out on net metering means you're wasting tons of kWh, which could cost you hundreds or thousands throughout your system's lifespan.
While your solar installer should work safely and efficiently to give you a tip-top solar system, it never hurts to keep these items in mind to ensure things go smoothly.