Here at Paradise Energy Solutions, the process of going solar is broken into six main steps. Paradise Energy Solutions will guide you through each step of the process to ensure everything is smooth and efficient.
The following process is a typical project timeline for a solar energy installation at Paradise Energy Solutions. Each installer's process will be different.
1. Solar Evaluation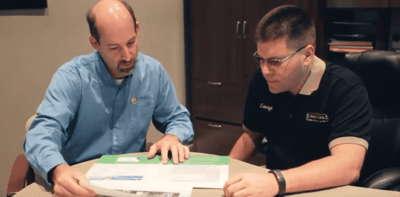 An appointment will be set up with your local consultant to discuss your questions and objectives for going solar. Some of the things that will be discussed and gathered during this appointment include:
Roof mount vs. ground mount - which is best for you

How much of your energy consumption will solar energy cover

Take away: Your electric bill - this will help us size your system and determine the payback

Take away: We will take pictures of your existing breaker panel box, transformer, and other items that will allow the estimating team to provide an accurate quote
2. Detailed Quote
Within 2-3 days of your initial meeting, your consultant will deliver a detailed quote that is tailored to your situation. The proposal will include:
An aerial picture of what your system will look like

The installation price, payback, ROI, and a year-by-year cash flow

The environmental impact
3. Signed Contract
After you review the quote and decide to move forward with the project, a project manager will be assigned to your project. They will meet with you to discuss the "nuts and bolts" and gather any final information we need to prepare for construction.
4. Paperwork and Permits
Most projects will have 2-4 months between the signed contract and the start of construction. During this time we will take care of all the paperwork for the required permits, order material, and finalize the construction details. Your project manager will be in contact with you throughout this entire time period.
5. Construction Begins
The project manager will work closely with the job site foreman to make sure construction is smooth and not disruptive in any way. Both team members will give you consistent updates to make sure you know what's happening at each step of the project. Construction can take anywhere from a couple of days to several weeks, depending on the project size and weather conditions.
6. Flip The Switch Party
This step is the most fun! As soon as construction is complete and all the proper permissions have been granted, we will celebrate by having you flip the switch to energize your system.
Start the Solar Installation Process!
Take the first step in the process, request your free custom solar quote today! Click the button below.
Not ready for a quote? A good next step is to download our Solar Buying Guide. This guide answers many of the common questions to help you through the solar process.