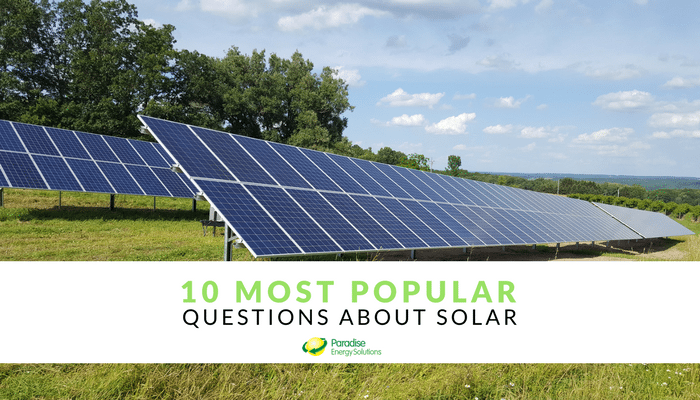 There are many questions that are asked when someone is considering solar as an alternative energy. Here's a list of the most popular questions we are asked.

1.

How Much Weight Will Solar Add to My Roof?
An average solar panel weighs forty-five pounds and will typically add 2 to 3 pounds per square foot. Weight is taken into consideration when designing a solar system. We will conduct a structural analysis to make sure your roof can hold the additional weight.

2.

What Maintenance is Required with a Solar System?
Solar systems require very little maintenance. However, for added security, solar system components typically come with 5 to 25-year warranties. We also provide a 10-year workmanship warranty on all of our installations.

3.

How Durable are Solar Panels?
Solar panels are built to withstand extreme weather conditions and typically come with a 25-year manufacturer warranty. Degradation is expected over the life of a solar panel, however, it would be covered by a manufacturer warranty if it drops below a certain threshold.

4.

Can Hail Damage Solar Panels?
We encourage all of our customers to insure their solar system. However, a typical hailstorm will not cause an issue with a solar system. Manufacturers take hail into consideration when designing and testing their solar panels. Most manufacturers have written statements as to what their product can withstand.

5.

Why Can't my Solar System Produce During a Power Outage?
Electrical code requires your solar system to shut down when the grid goes down for safety reasons. For example, if the grid goes down in a neighborhood and the local utility is fixing the power lines locally, it would be unsafe for a solar system to push excess electricity back to the grid. For more information, read this blog post.

6.

Will my Solar System Become Outdated in Several Years?
Like any technology, solar systems will continue to improve and efficiencies will increase in solar panel design. However, the primary purpose of your solar system, creating electricity, will not change and they will continue to produce electricity for 30+ years.

7.

Can a Solar System be Added in the Future?
Yes, a solar system can have an addition added at any point in the future. However, we recommend installing the whole solar system at one time to save on excess labor costs.

8.

Can I put a Bigger Solar System in so the Utility Has to Pay Me?
We typically design a solar system to cover no more than 100% of your electrical usage. Many utilities do not acknowledge the extra electricity you produce or they compensate less than the market rate for the extra power you produce. Learn more about Net Metering.

9.

Do I Need to Clean My Solar Panels?
No. Solar panels do not require cleaning. In the rare case in which there is visible, heavy buildup on a solar system, we recommend contacting a professional to clean your solar system.

10.

Can I Add Batteries to my Solar System?
Yes, batteries can be added to your solar system, however, this will add significant cost to the system.
Your question didn't make the list? Let us know and we will get you an answer.