Ohio may not be the first or second place that comes to mind when thinking about great places to install solar energy. It's not known as the sunniest state, particularly up north, due to moisture coming off the Great Lakes.
But despite the cloudy weather, solar energy is alive and well in the Buckeye State.
As installation costs continue to decrease, and electricity rates from utility companies continue to increase, an investment in solar energy is becoming more and more profitable for Ohio businesses, farmers, and homeowners alike.
In this blog, we're breaking down the top ten counties in Ohio for solar. Spread across the state from north to south, you'll see how solar energy can be a great investment regardless of the weather.
How We Calculated the Rankings
To create our Top 10, we looked at two factors for solar in each county: the total amount of megawatts (MW) of solar installed, and the number of solar energy systems installed. Each of Ohio's 88 counties were then assigned a number from 1 to 88 based on how they ranked compared to other counties. We then averaged those two rankings, coming up with the overall score.
It's important to us that the list isn't skewed by the counties that have the largest utility-scale solar farms. That's why we weighted the overall number of installations proportionately to the overall MW of installed solar. The number of installations is a better indicator of how easy local municipalities and utility companies makes it for its businesses and homeowners to go solar. So if there was a tie between two counties, the county with the higher number of installations installed is our winner.
Ohio's Top 10 Counties for Solar Energy Installations
Cuyahoga
Franklin
Hamilton
Wayne
Medina
Greene
Lucas
Licking
Butler
Wyandot
1. Cuyahoga County, OH
11.27 MW (#9 in Ohio) | 153 Installations (#3 in Ohio)
Why Is Cuyahoga County Good for Solar?
Home to Cleveland, the birthplace of former U.S. President James A. Garfield, and the northernmost section of Cuyahoga National Park, Cuyahoga County has so much to offer. Included in this is the fact that it comes in as the best county for solar energy in Ohio.
Though it doesn't take the top spot in either MW installed or overall installations, its combination suggests it's a great place to install solar, leading all other countries with 83.5 out of 88 possible points.
While their overall MW production is just 11.27 MW, they boast 153 independent installations, meaning that power is coming from homes, businesses, and farms—not large, utility-scale solar farms.
Featured Solar System in Cuyahoga County, OH
In March 2021, Kent State University's College of Podiatric Medicine in Independence, energized a 315.2 kW ground mount solar system.
Comprised of 788 solar panels, this system will produce 350,000 kWh a year - 27% of the electric usage at this campus. That's enough to power 42 homes and is equal to removing 52 cars from the road.
2. Hamilton County, OH
7.76 MW (#11 in Ohio) | 279 Installations (#1 in Ohio)
Why Is Hamilton County Good for Solar?
Hamilton County may not have the highest solar MW nameplate rating, but they do have the most solar systems installed. That was enough to make them #2 on our list of best counties in Ohio to install solar. Their overall score is 83, which puts them in a tie with Franklin County, but because they had more systems installed, Hamilton County is the winner.
The overall number of systems installed is an important ranking factor, because it means independent businesses, farmers, and homeowners are encouraged to install their own solar systems. While these systems may be smaller than utility-scale solar systems, they have a positive economic impact on the people living in that county through continued savings.
Featured Solar System in Hamilton County, OH
At 1.56 MW, the Melink Solar Canopy at the Cincinnati Zoo was the largest publicly accessible urban solar array in the country when it was built in 2011. The 6,400 solar panels provide shade and protection from the elements for visitors' cars. The system also provides a whopping 20% of the zoo's energy needs!
3. Franklin County, OH
8.05 MW (#10 in Ohio) | 209 Installations (#2 in Ohio)
Why Is Franklin County Good for Solar?
As the most populous county in Ohio and home to the state capital Columbus, Franklin County has its fair share of solar energy. In fact, Franklin County has the second most solar installations in the state, giving it the third spot on our list.
Though the amount of overall MW of installed solar doesn't quite compare to some other counties, the spirit of solar energy is strong here, as homeowners, businesses, and farmers embrace installing solar energy to offset their electricity needs.
Businesses and nonprofits are encouraged to go solar thanks to favorable policies like Franklin County's Energy Works Initiative, which provides loan financing for organizations looking to install solar panels.
Featured Solar System in Franklin County, OH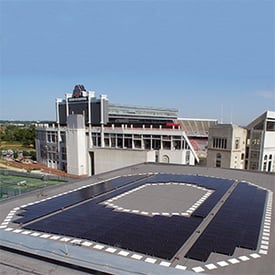 Ohio State University is well-known for showing school spirit, and that doesn't stop when it comes to solar panels. Atop the university's Recreation and Physical Activity Center sits a large, roof-top solar system that's in the shape of the Ohio State "O." These panels produce 116,000 kilowatt-hours (kWh) of electricity each year. Now there's a reason we can all cheer for the Buckeyes!
Image courtesy of Ohio State University: https://www.osu.edu/features/2015/sustainability.html
4. Wayne County, OH
7.08 MW (#13 in Ohio) | 81 Installations (#5 in Ohio)
Why Is Wayne County Good for Solar?
Wayne County is in the center of Ohio's Heartland, offering rolling hills, idyllic farmland, and acres and acres of lush woodland. With vineyards, arboretums and gardens, and no shortage of local, homemade jams and jellies, visitors and residents alike find it easy to enjoy the bounty nature provides to Wayne County.
Coming in at #4 with 80 points, Wayne County creates an environment where solar energy is a perfect option for farms, homes, and businesses alike. Not only will solar save them money today, but it'll provide lasting value to those who inherit their property. And by reducing greenhouse gas emissions from traditional energy sources, they can rest easy they're doing all they can to be good stewards of God's abundant resources.
If you live in Wayne County and you're considering going solar, reach out to Wayne County Sustainable Energy Network. They're an organization dedicated to advancing sustainable energy in the county. Providing assistance and information, they're a great resource to help anyone demystify solar and learn whether or not it's right for them.
Featured Solar System in Wayne, OH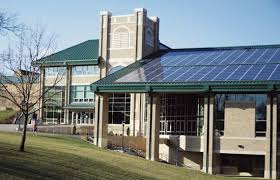 In 2011, The College of Wooster installed a 20,000-square-foot solar system on top of their new athletic and recreation center. At the time, this was the largest solar system at any college in the country!
The roof-mounted system spans 20,000 square feet and produces 271,000 kWh each year. That's enough electricity to offset about four dormitories, according to the school.
Image courtesy of The College of Wooster: https://openworks.wooster.edu/cgi/viewcontent.cgi?article=1024&context=wooalumnimag_2011-present
5. Medina County, OH
12.46 MW (#7 in Ohio) | 48 Installations (#13 in Ohio)
Why Is Medina County Good for Solar?
Medina County, Ohio, is a great place to live. As the tenth-fastest-growing county in Ohio, people from all over the country are settling in Medina's cities and towns thanks to their great educational system, low unemployment, and high quality of life.
Many of the area's businesses and residences alike sport solar systems of substantial sizes, making it #5 on our list with 79 points.
Featured Solar System in Medina, OH
Your solar system doesn't have to be the biggest in the county to have a huge impact on your finances and the environment. Take for example this Medina-based eye care practice, Excellence in Eye Care. In 2020, they energized their own 49.28 kW solar system. Composed of 128 solar panels atop the practice's roof, it will cover nearly 96% of their electricity needs.
Not only does this dramatically cut their electricity bill, but it also offsets 37.4 tons of CO2 or 870 trees.
6. Greene County, OH
5.06 MW (#15 in Ohio) | 64 Installations (#9 in Ohio)
Why Is Greene County Good for Solar?
While utility-scale solar is beginning to make its way into Greene County, many of the county's solar installations are owned by local residences and businesses. With 64 installations combining for a total of 5.06 MW, Greene county comes in at #6 on our list with 77 points. Though tied with Lucas county for points, Greene has more installations overall.
Featured Solar System in Greene, OH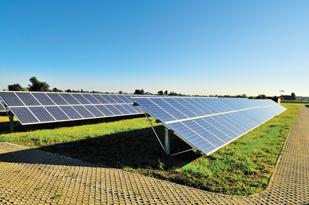 Not only are the residences and homes of Greene county interested in installing solar, but the local governments are, as well. The City of Xenia uses solar energy to power two of their wastewater treatment plants. These two ground-mount solar systems are 370.5 kW and 185.24 kW. The energy produced at these sites allow the city to power the plants in a cost-effective and renewable way.
Image courtesy of Dayton Business Journal: https://www.bizjournals.com/dayton/print-edition/2012/08/17/xenia-moves-forward-with-deal-to.html
7. Lucas County, OH
11.09 MW (#9 in Ohio) | 46 Installations (#15 in Ohio)
Why Is Lucas County Good for Solar?
Lucas County, Ohio is home to Toledo and is the fourth-smallest county in terms of land in the state. With a growing art community, auto assembly businesses, education, and healthcare industries, the city, and its surrounding towns are drawing more and more large businesses who are eager to save money and help the environment with solar energy.
Coming in at #15 in the total installations and #9 with overall MW installed, Lucas County earns its spot on our list at #7 with 77 points.
Featured Solar System in Lucas, OH
Toledo is known as The Glass City, having been home to many glass manufacturers since the 1880s. One of these global glass manufacturers, Owens Corning, installed a 2.4 MW solar carport at their headquarters.
With space for 1,000 vehicles, it is one of the largest solar carports in the Midwest. By producing 3,000,000 kWh of energy each year, it will offset 30% of the company's electricity needs
8. Licking County, OH
5.06 MW (#16 in Ohio) | 55 Installations (#12 in Ohio)
Why Is Licking County Good for Solar?
Licking County lies at the heart of Ohio and is known for its scenic landscapes, charming towns and local businesses, and Newark Earthworks - a tentative UNESCO World Heritage Site. Its natural and historic beauty is a sense of pride for Licking residents and businesses, and it's easy to understand why they'd want to do what they can to preserve it with renewable energy.
With 75 points, Licking County comes in as the 8th best county in Ohio to install solar. While their overall MW of installed solar isn't as high as some other counties on the list, they rank higher for installations, as many of Licking's solar energy comes from independent residences, farmers, and businesses.
Featured Solar System in Licking, OH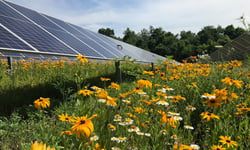 Denison University installed a 2.3 MW solar system that produces 2,800,000 kWh of emissions-free electricity each year. This system offsets a substantial amount of the university's electricity needs and decreases their carbon footprint. But they didn't stop there.
Also included amongst the 10-acre solar array are over 1 million flowering and pollinator-friendly plants. At a time where bees, butterflies, and other beneficial insects are struggling, this project creates a haven for these threatened species. The low-growing meadow also reduces operating costs for the school, as it will require much less maintenance than gravel or turfgrass.
Image courtesy of Denison University: https://denison.edu/news-events/featured/131013
9. Butler County, OH
2.41 MW (#23 in Ohio) | 81 Installations (#6 in Ohio)
Why Is Butler County Good for Solar?
Located in the southwest corner of Ohio, Butler County has a plethora of solar systems installed on homes, businesses, and farms. As a result, they come in at #9 on our list with 74.5 points. Though they've tied with Wyandot (#10), they come out on top because they have more systems installed.
Featured Solar System in Butler, OH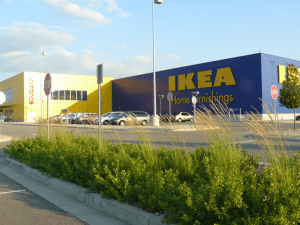 If you're driving past the IKEA in West Chester, OH, you may not notice the largest solar system in Butler County. This 1.026 MW solar system powers the store and spans 128,000 square feet, and is composed of over 4,000 solar panels. Each year, it produces about 1,334,300 kWh of electricity, which is the equivalent to eliminating the emissions from 115 homes.
Image courtesy of Green Cincinnati Education Advocacy: https://green-cincinnati.com/ikea-west-chester-ohio/
10. Wyandot County, OH
15.77 MW (#5 in Ohio) | 25 Installations (#24 in Ohio)
Why Is Wyandot County Good for Solar?
Finishing off our list at #10 is Wyandot County. While it ranks low in the total number of installations relative to other counties on our list, Wyandot makes up for it with the overall MW of solar installed. Additionally, many of the area's hog farmers utilize solar to reduce their overhead costs and provide their farms with free, renewable electricity.
Featured Solar System in Wyandot County, OH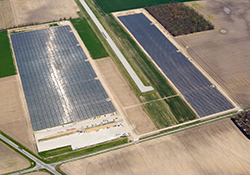 Wyandot is home to one of, if not the, largest solar systems in the state! Located next to the Wyandot County Airport is the Wyandot Solar Facility. This 12 MW system produces around 14,500m MW-h of emissions-free energy each year. It's comprised of 159,200 panels and spreads across nearly 84 acres.
Image courtesy of Cleveland.com: https://www.cleveland.com/business/2010/08/post_62.html
Note: All data comes from the Generation Attribute Tracking System (GATS), a public report from PJM Interconnection. The data was accessed in March 2021.