If you're looking for the best solar installers near you, you've come to the right place. In this blog, we list the top solar companies that operate in Delaware, on Maryland's Eastern Shore, and Virginia's Eastern Shore.
As a solar installer in the Delmarva Region ourselves, you might think creating a list of our biggest competitors is an odd move. But above all, we want our potential customers to end up with a great solar system at a fair price. And the more companies you request quotes from, the more likely you'll find an installer that's a good fit for you, whether that's us or not.
That said, the point of this list isn't to rank these installers from best to worst. It's simple to list some of your options as a Delmarva homeowner, business, or farmer looking to use solar power to reduce your electric bills and protect your budget with solar.
So without further ado, here is a list of the best solar installers in the Delmarva area (listed alphabetically).

Pictured is a solar system Paradise Energy Solutions installed for How Sweet It Is in Eden, MD.
Best Solar Companies in Delmarva
Clean Energy USA
About: Located in Rehoboth Beach, DE, Clean Energy USA started installing solar systems in 2007. Since then, they've installed over 1,500 solar energy systems for homes and businesses across Delaware.
Services Offered: Clean Energy USA is a turn-key solar installation company, taking care of the design, permitting, and installation of solar systems.
Office Location: Rehoboth Beach, DE
EDGE Energy
About: EDGE Energy services Maryland and Virginia, making up a good portion of the Delmarva Peninsula. They were founded in 2006 and have since helped thousands of homes and businesses in the area reduce their carbon footprint.
Services Offered: EDGE Energy offers solar PV system installation and maintenance and energy storage solutions. They also offer energy auditing and energy improvement services.
Office Location: Beltsville, MD
Green Street Solar
About: Based in Selbyville, DE, Green Street Solar has completed hundreds of solar system installations in Delaware and Maryland. They formed in 2008 as an offshoot of the roller shutter and roller screen firm Alutech.
Green Street Solar installs commercial and residential solar systems, offering a complete turn-key solution for their customers.
Services Offered: Green Street Solar performs all the necessary services, from the design to permitting to the solar panel installation.
Office Location: Selbyville, DE
Paradise Energy Solutions
About: With three offices spread across Maryland and Virginia, Paradise Energy Solutions is well-positioned to serve the Delmarva Peninsula.
Paradise Energy Solutions began installing solar systems in 2009 and has installed over 2,000 solar systems in the Mid-Atlantic region. Many of these systems are located in Delaware and Maryland's Eastern Shore.
Services Offered: Paradise Energy designs and installs grid-tied solar systems for homes, businesses, and farms and will take care of all permitting and paperwork needed for the system. They also install energy storage systems (batteries) and operating and maintenance services.
Office Locations: Salisbury, MD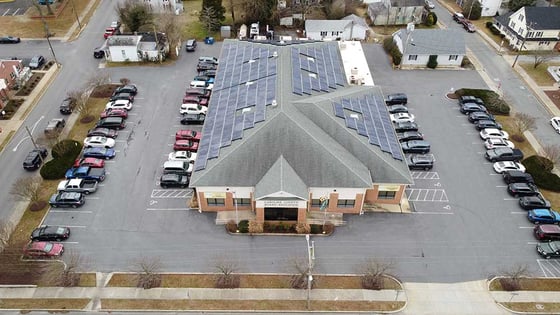 Pictured is one of two solar systems Paradise Energy solutions installed for the Caroline County Public Schools.
Solar Energy Services, Inc.
About: Founded in 2006, this Maryland-based solar installer also services Virginia and Washington DC. They bring grid-tied solar energy to businesses and homes alike.
Services Offered: They bring solar energy to businesses and homes alike, offering a turnkey solution to renewable energy. In addition to PV solar, they also install solar thermal and outdoor solar pool heating systems.
Office Location: Millersville, MD
Sunrise Solar
About: Sunrise Solar is one of three companies that fall under the Stoltzfus Companies, along with a roofing company and an electrical company.
They install solar systems with SunPower panels across the Eastern Shore for homes, businesses, and farms.
Services Offered: Sunrise Solar offers a full, turn-key solar installation process, along with battery installation and operations and maintenance services.
Office Location: Chestertown, MD
How to select a solar installer in Delmarva
If you're looking to install solar panels in the Delmarva area, you have plenty of options. However, narrowing down your list can get overwhelming.
You can keep an eye out for a few things when evaluating local solar installers to help narrow down our list a little easier.
Make sure they service your area. While our list focuses on Delmarva installers, some companies may not travel to every city or town in your state. And even if geographically they're close, if they're located in a different state, they may not have the business license needed to do work in your state.
Look for industry certifications and awards. If a solar installer mentions their workforce has industry certifications, it means their employees are industry experts backed by trusted programs. Look for certifications from the North American Board of Certified Energy Practitioners (NABCEP). Awards can also be a great indicator of a quality company, such as making Solar Power World's Top Solar Contractor List.
Look at their reviews. Go online and check out their reviews from multiple sources. In addition to the standard ones like Google and Facebook, you can also check out some industry-specific sites like SolarReviews.com.
Most solar panels and solar inverters will come with

manufacturer-backed warranties

and guarantees, but not all solar installers will offer their own warranties. These installer-backed guarantees can go a long way in protecting your investment, and it also demonstrates the installer's faith in their work.
The Paradise Energy Solutions Difference
We're never one to shy away from competition, but we believe in our commitment to our customers and to having a team of industry experts. Plus, our industry-leading Triple Ten Guarantee provides you with the peace of mind you deserve with a long-term investment like solar.
We'd love to be one of the companies you examine for your solar panel installation. Request your free custom quote today by clicking the button below.
If you're not ready for a quote, view our solar guide via PDF or video. This guide dives into the details that you need to be aware of for a successful solar investment.