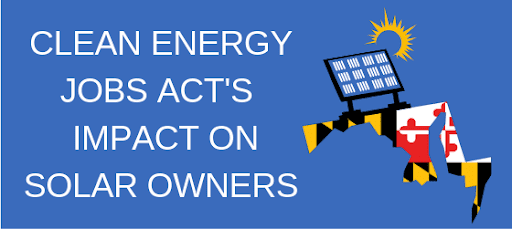 Maryland's Clean Energy Jobs Act was enacted into law on May 29, 2019, creating a mandate that 50% of the state's electricity be produced by renewable energy sources by 2030. The bill's journey to ratification began with the Maryland legislature on April 9, 2019 when it passed through the House and the Senate with a majority vote. It then proceeded to the desk of Gov. Larry Hogan, who could either veto or sign the bill. Hogan did neither by the deadline, allowing the bill to be passed into law de-facto.
If you're the owner of a solar system or are considering installing a solar system, you may be wondering what impact, if any, this bill will have on you. As it turns out, the Clean Energy Jobs Act will likely make solar an even more profitable investment.
Since the law was enacted, SREC prices in Maryland have jumped from $12 to $55 dollars (as of June 2019), meaning more money in the pocket of Maryland's solar producers.
What is Maryland's Clean Energy Jobs Act?
The Clean Energy Jobs Act, also known as SB 216, creates a new and enhanced Renewable Portfolio Standard (RPS) for Maryland. An RPS is a state law that requires utilities to produce a certain amount of electricity through clean and renewable methods.
In Maryland's Clean Energy Jobs Act, the RPS is 50% by 2030. This means that by the year 2030, Maryland will produce 50% of its electricity using renewable methods, like solar and wind.
This bill also has a significant carve-out for solar. Carve-outs are portions of an RPS that specify how much electricity needs to be created by a specific method of clean energy production. In the Clean Energy Jobs Act, solar's carve-out is 14.8%, which means 14.8% of Maryland's power will come from solar energy by 2030. The current national average of electricity sourced by solar is 2.3 to 2.4%, so this increase of 12.4% is a substantial one.
According to the bill, the solar carve-out will gradually increase year-by-year to allow for the steady installation of solar systems across the state. However, clean energy improvements won't just plateau in 2030. Also in the bill is a requirement for the state to examine pathways to 100% clean energy by 2040.
What This Means for You
For Maryland to meet the solar carve-out requirement of 14.8%, utilities will need to purchase SRECs from solar system owners. SRECs (solar renewable energy certificates) serve as proof that a certain amount of solar energy was generated.
Utilities are required to have enough SRECs to meet the solar carve-out per the Clean Energy Jobs Act. SRECs can be acquired in two ways: the utilities produce solar energy, or they can purchase the credit from someone else.
Businesses, farmers, and homeowners with solar systems receive an SREC for each mWh (1,000 kWh) produced by their system. Utilities can then purchase these credits from the solar system owners, which helps them meet the state's standards.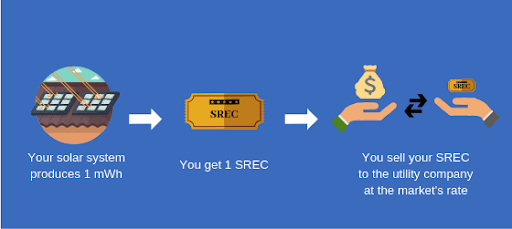 With a large solar carve-out in Maryland's Clean Energy Jobs Act, utilities will need to purchase more SRECs. This will drive the cost of the SRECs up, meaning solar system owners receive more money per mWh. Just a month after the bill was ratified, SREC prices in Maryland have increased 358% - from $12 to $55 (as of June 2019).
How Will the Clean Energy Jobs Act Effect the State?
Though the bill did not receive full support nor face rejection from Gov Hogan, many expect the increased RPS will have a positive impact on the state.
It's approximated that the bill will bring in nearly $250 million to Maryland's economy from the federal investment tax credits in just one year alone. Additionally, the Clean Energy Jobs Act is projected to bolster the clean energy economy. It's estimated that the bill will spur on 20,000 new jobs in the solar industry and 5,700 jobs in other renewable energy industries. The Clean Energy Jobs Act would also send a message to the growing number of companies who have made a commitment to operating on 100% renewable energy through RE100, such as Walmart, Johnson & Johnson, and Nike, making Maryland an attractive state in which to invest.
If you're considering solar, higher SREC prices mean a quicker payback and additional on-going income, which means investing in solar will give you more money in your pocket! Find out if solar right for you.
Originally published April 11, 2019 at 3:49 pm. Updated June 26, 2019 at 11:46 am