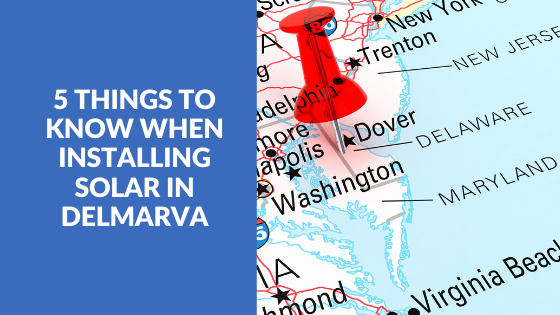 The Eastern Shore of Delmarva - famous for our popular beach towns, wild ponies, flourishing agricultural industry and rich history. Our peninsula, our people, our culture, and our food are unique and distinctive to our area, so it should come as no surprise to you, that installing solar on the Eastern Shore of Delmarva is equally distinct and unique to each of our local areas. Here are five important things you need to know when installing a solar energy system on the Eastern Shore of Delmarva.
Five things to be aware of before installing solar in DELMARVA
Utility Restricted Areas
Before you spend too much money and time on your solar project, you should first verify that the location of your proposed solar project is not located in a restricted area. Restricted areas are locations that the utility company has either limited or blocked any additional solar projects from being installed due to inadequate infrastructure such as sub-stations, transmission lines, etc. Some of the restrictions limit the size of the solar project that you can install, and other restrictions will completely restrict all solar. You can view a map of Choptank Electric Cooperative's Restricted Solar Areas here, and a map of Delmarva Power's Restricted Solar Areas here.
As of the writing of this blog post, Delaware Electric Cooperative (DEC) does not have a publicized restricted area map, however, DEC customers should be aware of the following limitations. If the size of the solar project is over 100 kW AC (this would likely only impact commercial and ag systems, not residential), then the customer will have to pay to have new 3 phase service brought to their property. In some situations, the reduced cost of 3 phase equipment may help offset some of the additional service costs associated with bringing in the new 3 phase service. Furthermore, if a DEC customer wants to aggregate their meters, they too would have to bring in new service.
If you are with a small, local or city utility, you may want to check with your utility company directly. For example, the City of Seaford, Delaware has a complete restriction on solar.
Solar System Size Limits
For most of our customers we recommend designing solar systems that offset 100% of your annual electric consumption. In certain circumstances, however, you may want to build a system designed to offset more than your current consumption. For example, if you plan on expanding or growing your business, if you're planning on putting a swimming pool in your backyard, or if your kids are moving back in. Depending on which state you live in on Delmarva, you might be limited on how much you can upsize your solar project.
If you are in Maryland, you're in luck. Maryland customers can build a solar array that offsets as much as 200% of their annual electric consumption. Please note, that overproduction or net excess generation (NEG) is typically reimbursed by your utility at the supply cost of the electricity only. You are better off using the electricity than selling it back to your utility company.
If your property is in the First State, Delaware customers can build solar systems designed to offset up to 110% of their current consumption.
Virginia customers on the Eastern Shore are limited to building a solar system up to 100% of the annual consumption. In Virginia net excess generation (NEG) is credited to the customer's next bill at the retail rate. After a 12-month cycle, customers may opt to roll over credit indefinitely or to receive payment at the avoided-cost rate.
Rapid Shutdown Requirements
Rapid shutdown requires that power on rooftop solar is shutdown within a specified amount of time. It is a safety function that requires that when the system is shutdown, the voltage from the solar panels is reduced to a safe level within a matter of seconds. The purpose of rapid shutdown is primarily for safety purposes, for fire fighters, etc. Most Authorities Having Jurisdiction (AHJ's) follow the National Electric Code (NEC). There are some exceptions, so be sure to check with your AHJ for additional requirements. The 2014 NEC code year requires that the system be shutdown within 10 feet of the array within a matter of seconds. To accomplish this, many inverters were either installed on the roof, or within 10 feet of the solar array. The requirement for 2017 rapid shutdown, however, requires that the shutdown occurs at the panel level. On the Eastern Shore, most AHJs in Maryland are enforcing NEC 2017, however, in Delaware, and Virginia it differs by AHJ.
Setback Rules
As with rapid shutdown, the NEC requires setbacks around the solar panels on rooftop solar systems. This too is for safety reasons, to allow firefighters and solar technicians to walk around the solar array on the roof. Both the 2014 and 2017 NEC code years require 3 ft setbacks on both sides and from the ridge of the roof. Some counties on the Eastern Shore of Delmarva don't require setbacks on non-residential buildings such as barns and outhouses, but always confirm with your AHJ for setback requirements for your location.
The Eastern Shore of Delmarva is also known for our waterways, and beautiful water-front properties. This, however, could impact where you can install a ground mount solar array. If you are in what's known as a "critical area", you cannot install a ground mount solar array within 100 ft of the water.
Land Disturbance in Maryland
A Federal Permit from the Maryland Department of Environmental Protection (MDEP) is required for land disturbances over 1,000 sq feet. The implementation of this requirement is on a county by county basis, so as always, check with your local jurisdiction.
Picking a solar installer in DELMARVA
There are a lot of details and complexities that go into designing, permitting, and installing a solar system on Delmarva. To avoid headaches, always choose a reputable solar installation company that has familiarity with your local rules and regulations. We suggest examining these 5 areas to help select the best solar partner.
Since this is a post on the Paradise Energy blog, we would like to tell you a little bit about us. We are a family-owned, full-service solar installation company that has served the mid-Atlantic region for over eleven years. With over 1,300 completed solar installations, we have the experience and expertise to get your project installed properly.