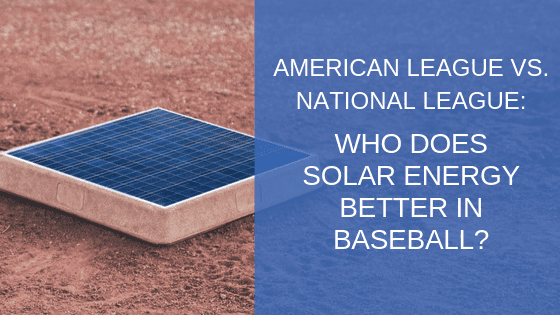 First was the World Series, and then came the All-Star Game. What's the newest competition between the American League and the National League? Which league does solar energy better.
With sports teams and associations across the world joining the United Nation's Sports for Climate Action Framework, renewable practices are becoming increasingly common at stadiums across America, baseball included. But which MLB league is ahead of the curve?
Here are the top 9 baseball stadiums when it comes to solar energy:
Honorable Mention: The New York Yankees
Stay tuned until the end to see which league came out on top in the battle for the highly coveted title of the most solar-friendly league in baseball!
The Top 9 Baseball Stadiums for Solar Energy
1. San Diego Padres' Petco Park | 330 kW
With 716 470-watt solar panels, the Padres are hitting it out of the park… at least when it comes to renewable energy. At 330 kW, Petco Park's solar array is larger than all the other solar-powered MLB stadium combined.
Over the next 25 years, the system will generate 12,000 megawatt-hours. That shakes down to a savings of over $4 million and will provide enough electricity to power all the operations in their front office[1].
This high-profile project is a great way to remind San Diego of its goal to achieve 100% renewable energy citywide by 2035.
2. San Francisco Giants' Oracle Park | 123 kW
Though the Giants can no longer claim the largest solar array, they'll always be one of the first MLB teams to install solar at its park. Back in 2007, the team installed 590 panels in three different locations, including the iconic and highly visible McCovey Cove. According to Mercury News, the system provides the same amount of power as around 40[2] residential rooftop systems.
Kudos to the Giants for paving the way for renewable energy in professional sports. Now it's time to reclaim your top spot and install more. After all, beating the Padres can't be that hard...
3. Arizona Diamondbacks' Chase Field | 75 kW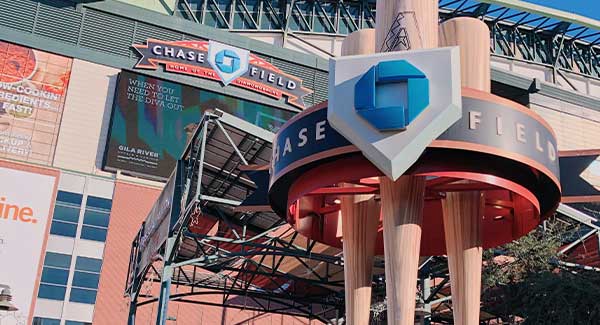 Located in the country's sunniest state, it would be a little weird if Arizona's baseball team didn't have solar panels, right?
In 2017, the Diamondbacks installed the much-loved APS Solar Pavilion at Chase Field. The 336 solar panels provide 17,280 square feet of shade over the western entrance and ticket booths[3]. Not only does the structure provide 100,000 kWh of electricity (enough to power 11 home games), but it also provides some much-needed respite from the hot Phoenix sun as fans stand in line.
And if the lines get too long, fans can peruse the educational exhibits on sustainable living or watch as an electric vehicle uses that solar-generated energy to charge at one of the several EV charging stations.
4. Seattle Mariners' T-Mobile Park | 32.76 kW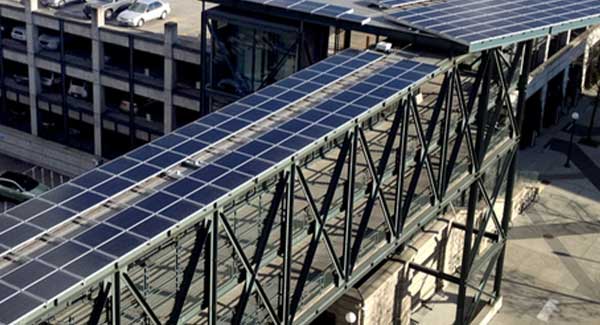 So it might be weird if the Diamondbacks didn't have solar, but would it be weird if Seattle's team did have solar?
Seattle is notorious for its broody, rainy weather - so why would a major-league sports team invest in an energy source dependent on sunshine?
Despite what you may think, solar panels can still produce a fair amount of electricity in even the cloudiest of climates. In the Mariner's case, that amount is 40,000[4] kilowatt-hours (kWh) of energy each year.
Their 168 solar panels are a bit unique, having the ability to generate electricity from both the front and the back of the panel. While bi-facial solar panels are becoming more and more common nowadays, this system was installed back in 2012, showing just how forward-thinking this team is.
5. Kansas City Royals' Kauffman Stadium | 28.8 kW
In 2012, the Royals held the MLB All-Star game. Also in 2012, the Royals installed 120 solar panels that generate 36,000 kWh of energy[5].
While they can't beat San Francisco's install dating back to 2007, the Royals got in the solar game early and used their status as All-Star Game host to promote solar energy at a pivotal point for the renewable energy industry.
6. St. Louis Cardinals' Busch Stadium | 25 kW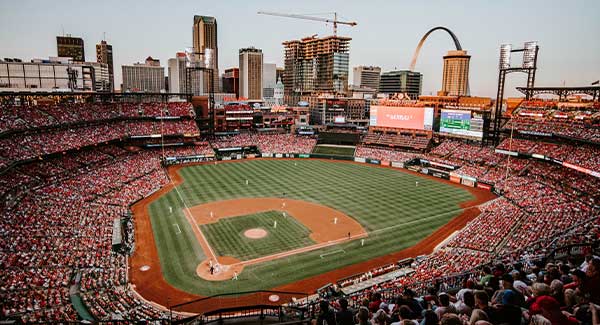 106 solar panels grace the top of Busch Stadium's ticket booth and bleacher canopy, which generate 32,000 kWh of electricity. An educational kiosk offers information on the park's solar panels and solar energy in general, so fans and stadium visitors can dive a little deeper into what solar is all about[6].
While the Cardinal's solar system isn't MLB's largest, it's just part of a larger effort to help make their stadium one of the most efficient in the game. Since opening in 2006, Busch Stadium uses 20% less electricity and 10% less water.
7. Colorado Rockies' Coors Field | 9.89 kW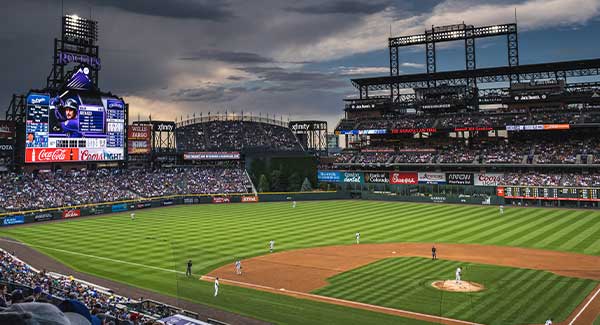 Back in 2007, the Rockies joined the Giants as one of the first teams to install solar in their ballpark.
46 solar panels generate more than 14,000 kWh[7] of electricity each year under the Colorado sun. That's enough to power their Rockpile LED board for the entire year.
While there's still plenty of room to expand their system, the Rockies get bonus points for getting their fans engaged and excited about the system.
Fans can keep an eye on how much the system is producing in real-time by checking out the nearby board that displays the solar array's monitoring system.
8. Cleveland Indians' Progressive Field | 8.4 kW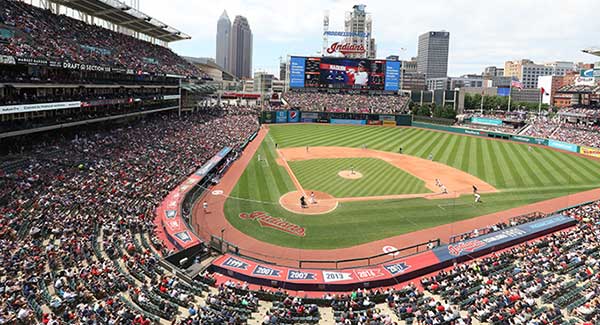 While the Rockies and the Giants got their solar system up and running for opening day of the 2007 season, the Indians also got into the solar game early. Though the third to install solar in all of MLB, they were the first American League team to go solar.
42 panels generate enough electricity to power the 400 TVs throughout Progressive Field[8], which is accompanied by several other green initiatives as part of the Indian's "Our Tribe is Green" campaign.
The best part? In 2019, the team announced they'll be adding more solar panels to the stadium, reducing their carbon footprint even further.[9]
9. Boston Red Sox's Fenway Park | Solar Hot Water
Since 1912, Fenway has been the home of the Boston Red Sox. What's now one of the oldest baseball stadiums in use, Fenway is anything but old-fashioned.
In 2008, they became the first team in MLB to install solar thermal panels. The 28 panels located behind home plate heat the park's water, offsetting 37% of the gas-heated water, which has a substantial impact on the environment. It's akin to taking 4 passenger vehicles off the road or zeroing out the pollution from three single-family homes for a year[10].
10. New York Yankees' Yankee Stadium | UN's Sports for Climate Action Framework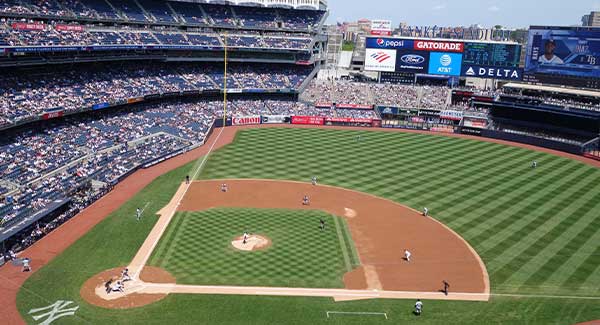 Love 'em or hate 'em, nearly no baseball list is complete without mentioning the New York Yankees. While the Yankees don't currently use PV solar panels or solar hot water, they have taken a big step in showing their dedication to the environment[11].
In 2019, they became the first major North American team (in any sport) to join the UN Sports for Climate Action. This coalition's aim is to align sports stadiums with the Paris Climate Change Agreement's greenhouse emissions goals while using their platform to inspire others to take action.
We're excited to see where this agreement will take this team and others as they join the coalition.
The Solar Standings
| | |
| --- | --- |
| American League | National League |
| Seattle Mariners: 32.76 kW generating 40,000 kWh a year | San Diego Padres: 330 kW generating 480,000 kWh a year |
| Kansas City Royals: 28.8 kW generating 36,000 kWh a year | San Francisco Giants: 123 kW generating 190,000 kWh a year |
| Cleveland Indians: 8.4 kW generating 13,000 kWh a year | Arizona Diamondbacks: 75 kW generating 100,000 kWh a year |
| Boston Red Sox: solar hot water | St. Louis Cardinals: 25 kW generating 32,000 kWh a year |
| New York Yankees: 0 kW generating 0 kWh a year | Colorado Rockies: 9.89 kW generating 14,000 kWh a year |
| 69.96 kW generating 89,000 kWh a year + solar hot water at Fenway | 562.89 kW generating 816,000 kWh a year |
With the numbers in, it looks like the National League blew the American League away with a 727,000 kWh a year lead!
Regardless of which team or league you root for, at the end of the day, we can all get behind these ten franchises for their commitment to clean, green renewable energy!
If you're interested in adding solar to your home or business, check out this article 4 Ways to Tell If Solar Is Right for You. It'll tell you what factors you should consider when determining whether or not solar could be helpful to you.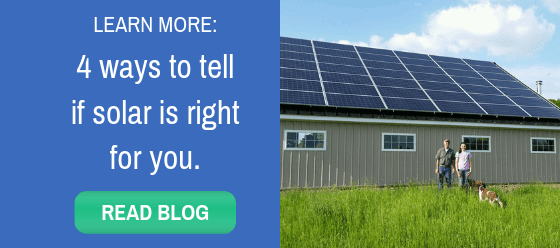 [01] https://www.petcoparkinsider.com/solar-power-at-petco-park
[02] https://www.mercurynews.com/2007/03/19/att-park-to-go-solar/
[03] https://www.mlb.com/dbacks/ballpark/information/facts-figures
[04] https://www.mlb.com/news/solar-panels-installed-at-safeco-field/c-27732236
[05] https://www.mcclatchydc.com/news/nation-world/national/article24723400.html
[06] https://electricalconnection.org/news/st-louis-cardinals-energize-busch-stadium-with-solar-power-for-the-first-time-94
[07] https://www.treehugger.com/renewable-energy/colorado-rockies-score-with-solar-power.html
[08] https://www.mlb.com/indians/community/our-tribe-is-green
[09] https://www.solarreviews.com/news/cleveland-indians-go-solar-progressive-field-040919/
[010] https://www.mlb.com/redsox/ballpark/green-initiatives/solar
[011] https://unfccc.int/news/new-york-yankees-first-major-north-american-team-to-join-un-sports-for-climate-action