We think solar is pretty great. In addition to generating emission-free electricity fueled by the most abundant energy source on Earth (the sun), it offers powerful financial advantages to many people.
That said, we'll be among the first to tell you that solar energy isn't for everyone. There are a few factors you should consider before making the leap. Outlined below, these five requirements will help you determine whether going solar is a smart decision or one you may want to pass on for now.
Five Ways to tell if Solar Energy is a Good Investment For You
You Have a High Electric Bill
A solar energy system will save you money by producing free electricity that offsets your electric bill. The more money you pay to the utility each month, the more you stand to save with solar. Larger solar systems offsetting high electric bills will often reach payback much quicker and have higher ROIs than smaller systems.
But how much does your electric bill need to be to make going solar worth it? "High" is a relative term. What's high for a single-family home isn't the same as what's high for a 200,000-square-foot manufacturing facility.
A good place to start is to compare how much you pay per kilowatt-hour of electricity to the national average. Solar savings will be even greater in areas where the electric price is high. However, if you use a lot of electricity even in an area where rates are low, you could still see substantial savings. To see how your state compares, check out the map below.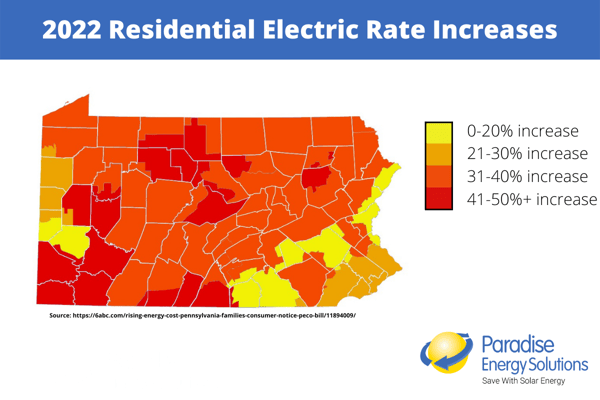 You Pay Taxes
If you pay taxes to the federal government and opt for solar ownership over a solar lease or PPA, you'll be able to go solar for significantly less. This can boost your return on investment and cut down your payback period, making your solar investment even more attractive.
Through 2032, any solar system that meets the above-mentioned criteria is eligible for a tax credit equal to 30% of the total cost of the installed solar system through the Solar Investment Tax Credit (ITC). This one tax credit alone lowers the cost of going solar to 70%.
In addition to the ITC, another tax-saving incentive is available to businesses: accelerated depreciation. This is available to tax-paying businesses that install a solar system. All the tax savings related to the solar system's depreciation can be pushed to the first year the system is put into service, further frontloading the investment.
The amount you'll save from accelerated depreciation will vary based on your tax rate.
If you don't pay taxes, you won't be eligible for these cost-saving incentives, which can mean a longer payback. But if you do pay taxes, these incentives drastically reduce the cost of going solar and lessen your tax burden.
Your Local Government Encourages Solar
In addition to tax incentives offered by the federal government, there may be incentives available from your state and local governments or even utility companies.
One particular policy you should look into before going solar is that which dictates how utility companies are required to compensate you for your excess solar-generated electricity.
In 38 states, governments enforce what is called net metering. This is where any excess electricity your solar system produces is transferred to the grid. In exchange, you'll be credited at the retail rate for that electricity instead of just the generation rate. You'll then be able to draw on those credits for electricity when your solar system isn't producing, like when the sun goes down at night.
A few other states have a different method of electricity compensation, like New York's VDER Value Stack. The Value Stack takes into account a variety of factors to determine the value of your solar-generated electricity.
All in all, if you live in a state with net metering or a similar compensation method, it'll be easier and more cost-effective to offset 100% of your electricity with solar energy. If you do not live in one of these states, you'll still be compensated, but at a lesser amount.
In addition to net metering, there may also be an SREC market in your state, which will allow you to sell Solar Renewable Energy Credits (SRECs) to utility companies. For every 1,000 kilowatt-hours you produce, you'll earn one credit. The price of these credits fluctuates as it adjusts to market factors like availability and demand.
Many states, cities, and utilities also offer additional grants or tax credits. Here's a list of incentives available in Delaware, Maryland, New Jersey, New York, Ohio, Pennsylvania, Virginia, and West Virginia.
You Have the Space for Panels
When deciding whether or not a solar investment is right for you, you'll want to think about the space you have available to install the solar panels and the other equipment required to run the system.
As a general rule, a 5 kW system can cover about a $60/month electricity bill and will take up about 280 sq. ft. A 100 kW system which can cover about a $1,200/month electricity bill, will take up about 8,500 sq. ft.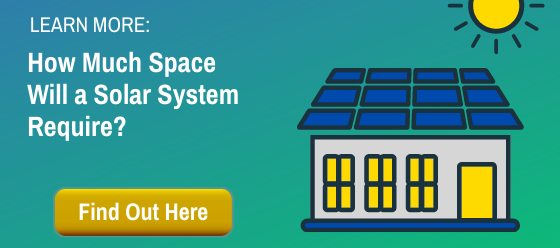 Solar systems are often installed on buildings' roofs. Because we typically aren't using our roofs for much, they're not taking up space we're used to having. Additionally, the panels are out-of-reach to most people and animals, keeping them safe and secure.
Solar panels can be installed on a variety of roof surfaces, from shingles to standing seam to flat commercial roofs. As long as you have a sturdy roof in good condition, you likely won't have a problem installing a roof-mounted system.

If you have a roof clad in asphalt shingles, the panels will be attached to the roof using a lag bolt and a piece of flashing. The flashing will ensure no leakage occurs as a result of the panels.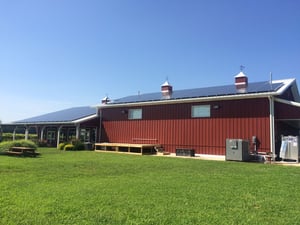 With standing seam roofs, no penetration is required at all. The panels are held into place with a secure U-clamp along the raised seam of the roof. Solar panels on corrugated metal roofs are attached with a specialized bracket designed to fit over the ribs of the roof. These are then secured with galvanized screws.

If you have a flat roof, regardless of whether it's rubber, TPO, or something else, your solar panels can be installed as a ballast mount. Ballast mounts utilize heavy blocks to weigh down and safely secure the panel racking system to the roof. Ballast mounts require no penetration to the roof.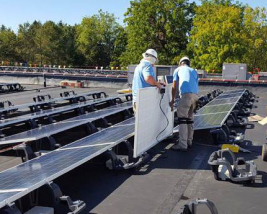 Regardless of what material roof you have, a structural engineer will have to evaluate your roof to ensure it can support the additional weight of the panels.

If mounting solar panels to your roof is something you'd rather avoid, they can also be installed as a ground-mounted system somewhere on your property. Whether you improve panel production or maintain the curb appeal of your building, roof mounts give you a little more control. That said, they will take up physical space that you'll need to dedicate to the system.

Roof Mounts vs Ground Mounts: find out which one is best for your property.
It's important to note that the available space you have, be it your roof or somewhere on the grounds of your building, gets plenty of unobstructed sunlight throughout the day. Nearby trees or buildings that cast shadows on that area will inhibit your panels from producing electricity. It's also best if the panels face south, increasing the amount of sunlight they receive; however, west- or east-facing panels can work as well.
The more sunlight your system is exposed to, the more electricity it can generate, and the fewer panels to meet your energy production goals.
You Have Access to Capital or Cash
To put it simply, a solar system will require a significant upfront investment to cover the equipment and installation costs. Solar systems for a residence can approach or exceed $30,000 before incentives. A larger system fit for a business can be upwards of $100,000 before incentives.
While you'll earn that money back and then some by producing your own free electricity, you'll still need to have money available to install the system. Whether through cash, loans, or capital leases, being able to fund the project is key to deciding whether or not solar is right for you.
If the finances aren't there, but you'd still like to power your home with clean, renewable energy, you should take a look into community solar, operating leases, or power purchase agreements. While these options don't deliver free electricity, they may offer electricity rates that are lower than the utility. And it'll be greener!
Is Solar Energy Right for You?
Installing a solar system is a decision you should take the time to consider. For many, it's a fantastic investment that offers tangible financial and environmental benefits.
If you are looking for a respite from high energy bills, a solar system can offer it. If you pay taxes and live in an area that offers additional incentives, it'll be even easier to make that upfront investment. However, you also need to consider whether or not you have the space needed to install the solar panels and that you have access to cash or financing to cover the initial cost.
If your home or business meets many of the criteria we've discussed, take the first step in going solar today. Each month that passes means another high electric bill you shouldn't have to pay.