Ever since President Trump's election, there has been much speculation about what his ideas and policies will mean for the renewable energy sector, including solar. To date, most of what we've learned since his inauguration in January is still speculation. While campaigning, he supported more use of coal, talked of lessening regulations, was not supportive of the Clean Power Plan, which is now tied up in the court system and has not really had any affect to date, and was often viewed as being anti-renewables. However, he also stated at an event in CA that he loves solar, but that it is still too expensive. So what does this all mean for the future of solar energy?
It's easy to get lost in all the rhetoric and seeming uncertainty, so let's consider some facts. The cost of PV solar energy continues to fall. As shown in the chart below, costs have fallen by more than 50% in the 7 years shown, and they continued falling in 2016, although not shown on this chart. The scale of solar worldwide has enabled manufacturers to drive their costs lower, and that has continued through 2016 and is forecast to continue through 2017.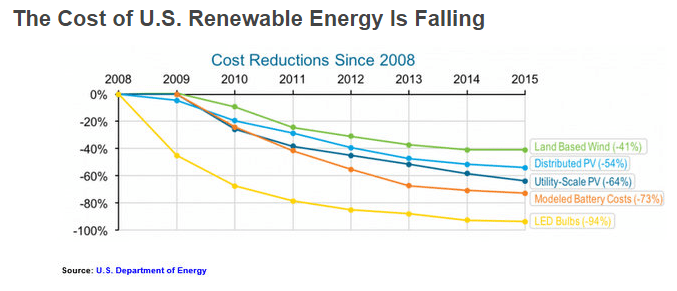 In addition, throughout the presidential campaign it was apparent that President Trump was looking to create more jobs for American workers. The following chart shows solar is doing exactly that for American workers. In fact in 2016, more than 260,000 Americans were employed in the solar industry according to GTM Research. There are now more Americans employed in the solar industry than either coal mining or oil and gas extraction. So maintaining some stability in the solar marketplace would ensure that this high-quality job market would continue to expand.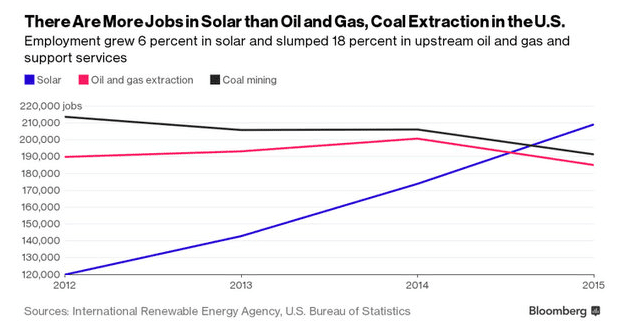 Finally, American voters of varied political persuasions are clearly supportive of a clean energy future as indicated in the chart below from the Conservative Energy Network. While there is certainly variation in what this support may look like across all the voters in the US, their desire is pretty clear. Clean Energy will continue to provide energy independence and consumer options for US consumers that were unheard of not that many years ago.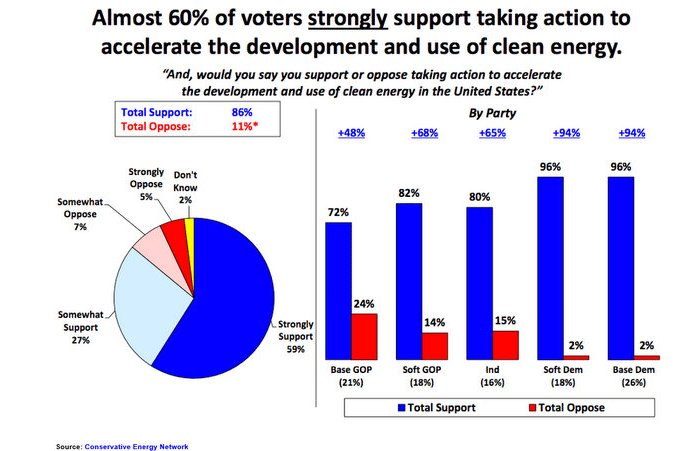 In 2016, new solar installations nearly doubled the previous annual US growth record set in 2015, with growth in all three energy segments, residential, commercial and utility scale. While we may see some change in Federal policy during the next four years, growth is projected to continue in the solar market. And it is not only Federal policy that affects solar, but State policies also have a significant impact as the solar market has experienced for years already.
So can we conclude anything about Solar's future? The Trump administration and the Federal government are not going to stop the renewable energy markets, nor have they said they have any desire to do so. Incentives may come and go, but the continued decrease in the cost of renewable energy will continue to bring parity and choice to the energy markets, and choice is a great thing for American consumers. We think 2017 is a great time to consider going solar. Some excellent incentives like the 26% Investment Tax Credit remain in place, and when coupled with the declining costs of solar, this could be the time for you to make a great choice, to take back those dollars you've been sending to your local utility each month and invest them in your financial future and in our good earth's environment that future generations will thank you for. Here at Paradise Energy Solutions, our team of consultants would love to help you process this decision of "going solar". Send us a message or give us a call today for a no-cost, no-hassle assessment of whether going solar makes sense for you.