With New York's goal to reach 70% renewable energy by 2030, the attention of many is shifting to alternative energy sources. But does solar energy really work in New York State?
After all, it's not really known for being a particularly sunny area of the country—especially Upstate.
However, solar has proven itself as a reliable energy source and profitable investment time and time again as a clean way for New Yorkers to escape their high electricity bills. And between the federal tax credit, declining system costs, and local solar incentives, it's more affordable now than ever.
There are many communities in New York State rising above national averages when it comes to producing renewable energy, and we've ranked the top 10 (excluding Long Island and New York City).
How We Calculated the Rankings
We took a look at two factors for each county—the number of installations and the megawatts (MW) of solar installed. We then ranked the counties for both factors and averaged the results.
If any counties were tied, we put the one with more installations first. This is because installations are a better indicator of how easy a county makes it for its businesses and homeowners to go solar and stops our results from being skewed by big solar farms.
Upstate New York's Top 10 Counties for Solar Energy Installations

1. ORANGE COUNTY, NY
187.11 MW (#1 in Upstate NY) | 10,978 Installations (#1 in Upstate NY)
Why Orange County?
Orange County tops our list for both overall megawatts installed and the number of solar panel systems installed. Not only do they pack a punch when it comes to the sheer amount of solar energy being produced, but they're doing it with many independently owned solar systems.
That said, there are many solar farms and community solar systems in the area. With plenty of conveniently located land available near power lines and high electricity rates, Orange County is an attractive place for many solar developers. These help to make solar energy more accessible, bringing sustainable electricity to many homeowners and businesses in the region.
Located between the Hudson and Delaware Rivers, Orange County is located close enough for New York City commuters. It is part of the Mid-Hudson Regional Sustainability Plan, which lays out steps for creating an environmentally sustainable pathway for economic development. This plan includes solar energy in a big way.
Featured Installation
Aerodrome Development Company (28.47 kW)
Aerodrome Development Company in Middletown, NY powers their facility with 78 solar panels arranged into a 28.47 kW roof-mount system. With plenty of open roof space free of shade, their system cranks out the kWhs, keeping their electric costs down and their carbon footprint small.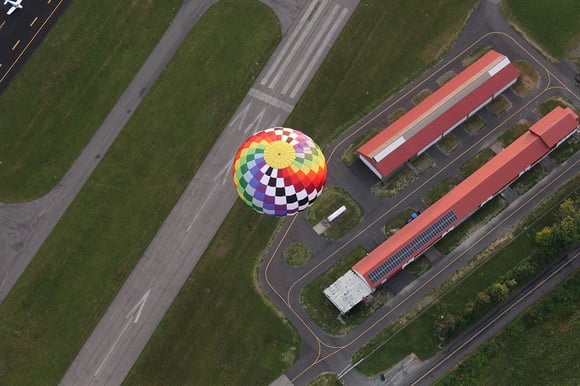 2. WESTCHESTER COUNTY, NY
111.01 MW (#2 in Upstate NY) | 7,975 installations (#2 in Upstate NY)
Why Westchester County?
Just north of New York City, Westchester is home to small towns, big cities, and gorgeous views of the Hudson River and Long Island Sound.
As an affluent suburb of New York City, many professionals choose to live in Westchester and commute to their jobs in the Big Apple.
While the installation costs of solar are becoming more and more affordable for homeowners of all incomes, the big-city salaries certainly make paying for solar's initial upfront investment easier, which may be why Westchester has the second most installs of any county outside New York City and Long Island.
The county government is also setting an excellent example. Its Climate Action Plan was developed to address the threat that climate change poses to their communities. Included in the plan is an ambitious goal of zero net emissions. To achieve this, the county will install several solar systems on the roofs of many of their large buildings.
Featured Installation
Greenburgh Town Hall (60 kW)
This roof-mounted system was installed on the town of Greenbeurgh's Town Hall. The system was installed back in 2006, making Greenberg an early adopter of renewable energy. Since then, local governments in Westchester County have continued to adopt and implement environmentally conscious practices.
Each year, it converts sunshine into over 78,000 kWh of electricity which powers a portion of their town hall.

Image courtesy of Greenburgh County: https://www.greenburghny.com/
3. DUTCHESS COUNTY, NY
69.34 MW (#9 in Upstate NY) | 4,016 Installations (#3 in Upstate NY)
Why Dutchess County?
Located along the eastern banks of the Hudson River, Dutchess County has a long history of agricultural production. But as New York City grew, Dutchess County shifted from crops to houses as it became a popular home for NYC commuters.
Today, the county farms in a much different way—they farm energy with solar systems. Coming in at number three for the most installations, it seems like most of the county's solar energy comes from smaller commercial and residential solar systems. This engagement from the local community means Dutchess County is a great place for installing solar in New York State.
Featured Installation
Vassar College in Poughkeepsie, NY (34 kW)
Proposed by a group of Vassar College students, this system is located on the barn at the Vassar Farm and Ecological Preserve, home to Vassar College's Environmental Engagement Cooperative.
This student-initiated project is integral to the college's campus-wide plan to achieve carbon neutrality by 2030. The college also has 15% of its energy needs met by a community solar project located in Esopus.

Image courtesy of Vassar College: https://stories.vassar.edu/2018/181003-barn-solar.html
4. ALBANY COUNTY, NY
86.88 MW (#6 in Upstate NY) | 3,686 Installations (#6 in Upstate NY)
Why Albany County?
Albany's Team Green program is dedicated to becoming the greenest county in New York State. In 2017, Albany was the first municipality in the Capital Region to earn NYSERDA's Clean Energy Community designation. This recognized the county's dedication to reducing energy use, cutting costs, driving clean energy development, and they didn't stop there.
One way they've achieved this is by making it easier for their citizens and businesses to go solar, from streamlining the permitting approvals process to undertaking the community-based solarize campaign, which reduced solar project costs through the joint purchase for 33 customers. After all, reduced project costs mean a faster payback period!
Featured Installation
Guilderland Central School District in Guilderland, NY (3.3 MW)
While the stellar education of young minds is an essential investment in the future of our planet, so too is our stewardship of natural resources. Having installed three solar systems, the Guilderland Central School District truly recognizes that. The largest is their 3.3 MW solar farm, which provides 58% of the district's energy needs and saves them millions.
And going solar has an added bonus - an educational element for students. Science classes use energy production reports in their lessons to understand how solar panels work and how weather impacts their production.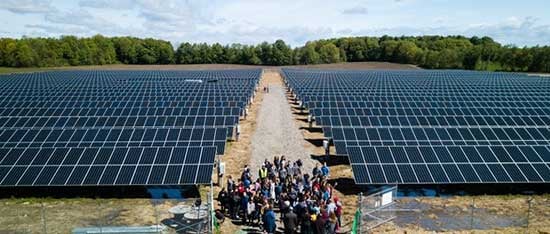 Image courtesy of Guilderland Central School District: https://www.guilderlandschools.org/gcsd-goes-solar-cutting-carbon-footprint-in-half-and-saving-taxpayers-millions/
5. ERIE COUNTY, NY
93.42 MW (#5 in Upstate NY) | 3,149 Installations (#7 in Upstate NY)
Why Erie County?
Home to the city of Buffalo, Erie County has nearly one million residents and is the metropolitan center of Western New York. The area's many local businesses create the region's industrial and commercial hub, and they take advantage of the savings solar energy can give them.
The County aims to make this easier to install solar by creating a law that establishes a county-wide sustainable energy loan program. It provides Property Assessed Clean Energy "PACE" financing to for-profit and not-for-profit business owners looking to install renewable energy systems. The program provides up to 100% financing for clean energy improvements.
Featured Installation
The Steel Sun Solar Farm in Lackawanna, NY (8.8 MW)
In the mid-19th century, Bethlehem Steel opened a location in Lackawanna, NY. For over a century, it operated as a steel mill until finally closing in 1982. In decades since the 1,000-acre site sat unused and abandoned.
Then, in the 2010s, a portion of this blighted site was put to good use. Today, 26,000 ground-mounted solar panels sit atop it as an 8.8 MW solar farm, generating clean, renewable energy for New York State.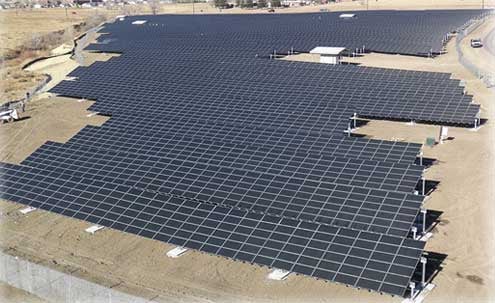 Image courtesy of Buffalo Rising: https://www.buffalorising.com/2014/08/the-steel-sun-solar-farm/
6. ULSTER COUNTY, NY
84.16 MW (#8 in Upstate NY) | 3,800 Installations (#5 in Upstate NY)
Why Ulster County?
Nestled among the Catskill Mountains and the Shawangunk Ridge, it's easy to keep the environment top-of-mind while in Ulster. With traditions steeped in agriculture, the county is well-known for its idyllic countryside and farmers' markets bursting with fresh produce.
The County of Ulster shows its commitment to the environment, having been recognized as the 26th largest green power user for local governments in the country by the EPA. The county also established the Energize NY Finance Program, which offers financing options for commercial buildings and non-profits, and supports the Solarize Hudson Valley program, which aims to make going solar easier for homes and small businesses.
Ulster makes it easy for their residents and businesses to go solar, making them #6 overall.
Featured Installation
New York State Bridge Authority in Kingston, NY (486.18 kW)
Located right off the Kingston-Rhinecliff Bridge is a 1,332-panel solar system that produces 26% of the Authority's electricity. Installed in early 2018, this is the first of several solar systems they intend to install. In further efforts to reduce its non-renewable energy expenditure, the Authority also converted all street lights and light bulbs to LEDs.
Notice the snow on the ground? It's an unavoidable fact that it snows in Upstate New York. But solar panels are designed to warm up and let the snow slide right off them, far before the snow melts elsewhere. This leaves you plenty of sunshine to crank out those kWhs!
Learn more about what happens to solar panels in the snow.

Image courtesy of Hudson Valley Press: https://hudsonvalleypress.com/2019/02/27/bridge-authority-turns-on-solar-panel-array/
7. SARATOGA COUNTY, NY
84.67 MW (#7 in Upstate NY) | 2,409 Installations (#8 in Upstate NY)
Why Saratoga County?
Saratoga County is one of the fastest-growing counties in the Northeast, with their population increasing at 4.8%. As the heart of "New York State's Tech Valley", professionals are flocking to Saratoga to land jobs at top-tier tech firms.
In addition to boosting the local economy, these forward-thinking businesses have embraced solar energy as an eco-friendly and cost-effective alternative to drive their companies' growth.
Featured Installation
Spa Solar Park in Saratoga Springs, NY (2.6 MW)
There's something poetic about covering an old landfill with a source of clean, renewable energy. And that's just what the City of Saratoga Springs did.
In 2017, this 2.6 MW solar farm was commissioned and has since supplied the City of Saratoga Springs with 40% of its energy. There are still over 50 acres on the site, leaving plenty of room for more solar panels!

Image courtesy of Green Energy Times: https://greenenergytimes.org/2017/10/18/former-landfill-turns-to-solar-in-saratoga-springs-n-y/
8. TOMPKINS COUNTY, NY
93.76 MW (#4 in Upstate NY) | 1,520 Installations (#11 in Upstate NY)
Why Tompkins County?
Tompkins County is known for its beautiful natural scenery and top-tier learning institutions like Ithaca College and Cornell University.
In addition to providing forward-thinking professionals that work for Tompkins County businesses, these colleges interact with the community to drive solar installations. In 2017, the Cornell Cooperative Extension ran a "Go Solar Tompkins County" campaign that led to over 100 people installing solar.
Featured Installation
Cornell University's Snyder Road Solar Farm in Lansing, NY (2 MW)
Completed in 2014, the Snyder Road Solar Farm was Cornell University's first megawatt-scale renewable energy resource. Five years later, the school now has five solar farms which produce enough energy to cover 7% of the college's electricity.

Image courtesy of Cornell University: https://www.cornell.edu/video/snyder-road-solar-farm-design
9. MONROE COUNTY, NY
94.84 MW (#3 in Upstate NY) | 1,508 Installations (#12 in Upstate NY)
Why Monroe County?
Located north of the Finger Lakes, Monroe County is home to the third-largest city in the state, Rochester. Known as the world capital of imaging, many optical science companies are headquartered in this county, along with nine colleges, and many other organizations dedicated to environmentalism.
These forward-thinking companies are joined by a forward-thinking local government, which has assembled a sustainability team to carry out environmental projects on the county level. While it ranks #3 in overall MW produced by solar, it comes up a bit short in installations, causing its overall ranking to drop.
Featured Installation
Rochester Regional Health in Parma, NY (5.48 MW)
In early 2019, Rochester Regional energized their 5.48 MW solar farm that powers the health system's 120+ off-site medical practices and support facilities. This kWh machine is the organization's latest step to achieving its goal of using 100% renewable electricity by 2025. At the time of its construction, it was the second-largest solar farm in New York State, spanning 20 acres.

Image courtesy of The Gardner Capital: https://www.gardnercapital.com/in-the-news-1/
10. ROCKLAND COUNTY, NY
44.97 MW (#14 in Upstate NY) | 3,930 Installations (#4 in Upstate NY)
Why Rockland County?
Rockland County is the smallest county by area in New York outside of the five boroughs. And despite having the third-highest population density of counties outside of New York City, there's still plenty of room for nature. Nearly one-third of the county is designated parkland.
This commitment to the environment can be seen through the sheer number of solar energy systems installed in the county. With nearly 4,000 total installations, it comes in as the county with the fourth most systems on our list. Despite its relatively modest total solar capacity (44.97 MW), this county is especially good for solar.
More installations and less overall MW means a significant portion of the county's solar comes from solar systems owned by homes and businesses, not big solar farms.
Featured Installation
Nice-Pak Products, Inc. & Professional Disposables International, Inc. in West Nyack, NY
In 2014, Nice-Pak Products, Inc. and its sister company, Professional Disposables International, Inc. utilized solar energy to power their headquarters and manufacturing plant. The 855 kW ballast-mount system was the largest of its kind in Rockland County at the time of installation.
It generates approximately 1 million kWh each year, offsetting 15% of the two companies' electricity usage.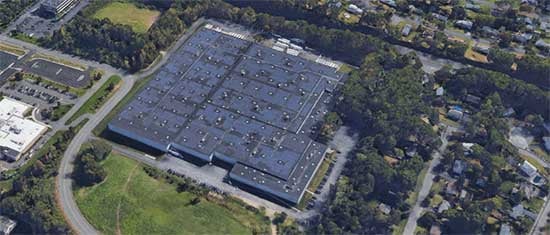 Image courtesy of Google Earth
Solar Panel Installation in New York State
Solar energy is a great option for farms, businesses, and homes across New York State. With electricity prices higher than over 80% of the country, the free energy produced by your solar system can offer relief for your high energy bills. And with costs declining plus great financial incentives from the federal and state governments, installing solar in New York may be more affordable than ever.
Paradise Energy Solutions is a family-owned, full service solar installation company serving New York and other states in the mid-Atlantic region. If you're interested in learning more about a solar energy investment for your property, contact our team of New York solar experts, Feel free to browse our educational blog posts, or download our Guide to Going Solar.
Note: All data comes from New York State's Energy Research and Development Authority (NYSERDA)'s NY-Sun Data and Trends. The data was accessed in May 2021. This blog was originally published in June 2019 and was updated in May 2021 to re-rank the counties based on updated information.