The year was 2009 and the US economy was in the throes of The Great Recession. Even though some of America's oldest and largest companies were struggling, the future looked bright for one industry in particular: solar energy.
Despite the recession, the solar industry was growing - in revenue and in employment. The industry saw a 37% increase in installations over the year before, and more than a billion dollars were invested in developing new solar technology.
This got the attention of Marcus Beiler, partner of a stone masonry business in Lancaster, PA. That year, Marcus convinced his three brothers, Tim, Matt, and Jason, to create Paradise Solar Energy Solutions, a full-service solar installation company founded with the mission to help people to be good stewards of God's abundant resources.
Having grown up on a farm, the brothers understood the importance of the sun for everyday farming routines and wanted to help their customers harness this power to create electricity, save money, and have a positive impact on the environment.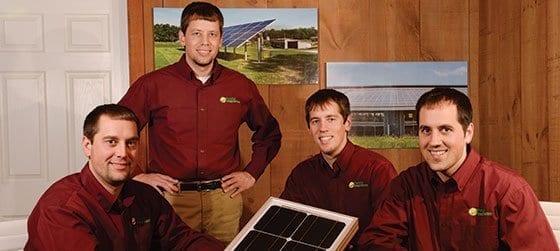 A decade later in 2019, the four founding brothers and the 60+ teammates of Paradise Energy are celebrating our 10th Anniversary. The small startup that grew out of the Lancaster County countryside has become one of the leading solar installers in the Mid-Atlantic. With six branch offices, Paradise Energy has installed over 1,000 solar systems across nine states.
But achieving this level of success in a new industry came with plenty of challenges.
Growing Pains
"We didn't have any background in solar energy or electrical," reflects Matt Beiler. "We could almost look back and say 'well we were pretty stupid to do that.' Or naive I guess you could say, maybe not stupid, but naive."
So the four brothers delved into online courses, learning how solar energy worked and how it was installed. Then, they got to work on their first solar system.
"Our first system was for our dad. We convinced him to go solar," Matt recalls. "We owe a lot to him actually, because he was our guinea pig."
But things only got more challenging from there. "As we started in the industry, we were one of the smallest guys out there," Marcus shares. The Beiler brothers didn't know if Paradise Energy would be able to compete with the larger companies who, in just a few years, had entrenched themselves in the market.
So the young business sought the help of Business Consultant Tim Rooney. "We sat down with Tim Rooney and said, 'Hey, we got an issue here. We're not selling. We need to take a look at this,'" Jason Beiler reflects.
That day, the team developed a plan to position themselves for future success which still defines the company a decade later. "We created really strong guarantees that nobody else had. We created a really strong, unique value proposition to the people we worked with," Tim Rooney shares.
But in a volatile market, the team was unsure if these strategies would be enough. "When other people were just peddling these systems, a lot of them closed up," says Tim Rooney. "So we made a decision, pretty much after the first year, to go ahead and spread our risk to keep our company going well and move into other markets. That's been our key to success."
And there was another trait that helped the young company grow. "The way we overcame some of the challenges of being a startup company versus having incumbents is really learning to kind of experiment on ourselves," shares Tim Beiler.
The brothers had installed their first agricultural project on the roofs of the poultry houses on Matt's farm, which was the farm that they grew up on. "That was kind of a turning point I think because now we had done a system. We could demonstrate look, we know how to work with the utilities, we know how to design these systems, we successfully did it, and here it is."
And after that system, the projects kept coming. From smaller residential systems to systems for farms and businesses that totaled several hundred kilowatts, Paradise Energy grew with the ups and downs of the solar industry.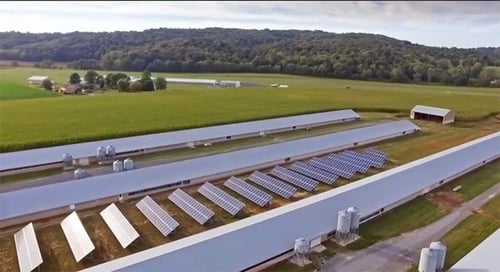 Looking Back on 10 Years
Ten years later, the Beiler brothers can reflect on that journey.
"There's a lot that I would have done differently, but also a lot that I wouldn't change," Marcus says. "A lot of things sort of fell into place. We didn't know what the future held, but we made decisions and kept moving forward."
The company founded on Christian values and a dedication to preserving God's resources have not shied away from them as they grew.
"I can see the hand of God in this whole situation where it's more than just us making good decisions, it's God working things out knowing what's in our future," shares Marcus.
"The rewarding thing to me is when I see people's lives change because that's lasting. That's not just money in the bank, but that's lasting," Marcus says. "When I hear feedback from a customer saying 'I never had an experience like this before,' when I see people change their attitude about business because they had an experience with us, that's big stuff for me."
And the positivity spreads on beyond the company's customers.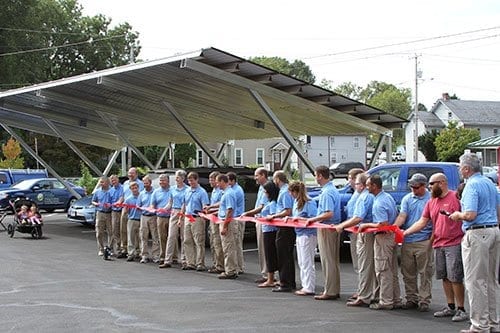 "As I think about Paradise Energy going forward, I think first of all about the culture and the difference that we're making in the lives of people that work here. Having a place to work that is a good place to work, where you do enjoy the people, that's a big thing. I know that spreads on beyond the business. It spreads into the homes of our employees; it spread on into the community," Marcus shares.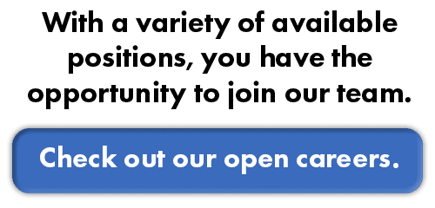 Larry Beiler, Paradise Energy's estimating manager and one of the company's earliest employees, reflects on what it was like to work for the solar installer. "It's a place where I know what I do matters. I know what I do matters for the environment, I know what I do matters for people's bottom line. There's just something rewarding about that."
Going forward, the Beiler brothers feel that it's both happy customers and happy employees that will propel the business forward.
"Business isn't complicated. It's relationships with people That's what I've learned over the years. And I think that's what's going to help us going forward." Matt shares. "Relationships with our team members and relationships with our customers are I think what makes or breaks our business."
The Journey Ahead
And after ten years, the company's journey has just begun. Paradise Energy is looking forward to bright days, continued growth, and capturing emerging opportunities.
"Paradise Energy Solutions, I believe, is positioned very well to capture emerging markets," shares Tim. With energy storage, solar operations and maintenance, and continued technological improvements, there are plenty of opportunities in the evolving industry to do just that.
"I think Paradise Energy's largest days are ahead of us. And there's maybe technologies we don't even know about yet, that Paradise Energy is going to play a large role in."