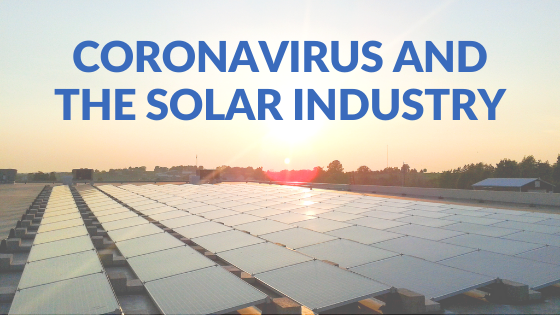 We are all living during one of the most unique times in my 60+ years on this great planet. The COVID-19 virus is not a good thing. We are enduring it as best we can, and ready for it to end. And we don't know when that end will occur. We would all like to know, and to know the future beyond that. Everything feels so out of our control.
About a month ago on February 3, I had the privilege of being interviewed on the Contractor's Corner podcast that is conducted by Solar Power World. One of the questions was about how we at Paradise Energy Solutions view the future of the solar industry. The shortened version of my response was that it is very bright. Then COVID-19 came out of seemingly nowhere and brought our entire world to a screeching halt just a short two weeks later. Wow, I didn't see that one coming as is the case for all of us. Since then our days are full of figuring out how to work remotely, how to communicate with each other, what are our businesses allowed and not allowed to do, how to function in a suddenly changed world. And how to avoid getting sick or spreading the virus.
Are there brighter days ahead for the solar industry and Paradise Energy?
Absolutely! The sun will continue to shine, pouring forth its energy freely. People will get back to what we used to call normal living, without masks, and stay-at- home orders. Kids will go back to school and adults back to work. And we will think about and plan for our futures again. We will again think about how to keep our businesses profitable, how to provide great jobs for our communities, and how to reduce our costs and save for the future of our families and loved ones. How to be good stewards of this beautiful planet and our resources will soon again be top-of-mind.
And solar energy will remain part of all of those discussions. Maybe even a bigger part now. Who wouldn't have liked to have one less monthly bill to pay at a time like this? Most would view the guaranteed payback of a solar energy investment as a safe investment as the markets plunge. It's because of this that we believe the solar industry will emerge from the current state strong. Solar energy will continue to be a great investment for many, and could be a great tool to help preserve cash when the next economic downturn hits.
While we may not always agree, and surely we won't, in fact we shouldn't or the best solutions will evade us, maybe this virus will serve as a "pause" that many of us needed. It provided a time to slow down and reevaluate our businesses, our goals and priorities and maybe even our faith. A tiny invisible germ certainly made most of us feel pretty small and powerless. May we not soon forget the lessons learned - relationships matter, our families matter, our communities matter, and lives all around the world matter. We are all called to be good stewards of all of our resources by the God who has blessed us with them in so many ways, but whom we often forget. And this virus happened during Lent as we who claim to be Christians pondered the greatest sacrifice of all, God's gift of his only son. But that was on Friday, then came Sunday!
At Paradise Energy Solutions we will exit this time stronger for having been tested, and we will continue to live out our Vision of helping people be good stewards of God's abundant resources. God is still alive and he is good, the sun will continue to shine, solar systems will bloom, brighter days are certainly ahead!