NO, it is not a good idea, and here is why.
It Is
D
angerous
Many solar arrays are installed on roofs and this in itself is a safety hazard for any person not experienced with walking on roofs every day. In addition, proper safety harnesses and fall protection must be worn in order to safely maneuver on a roof.
A solar system also involves complex wiring systems which can lead to dangerous situations if installed incorrectly.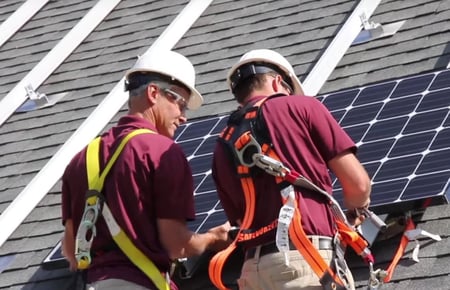 No Warranty
Most manufacturer's warranties are only valid if installed to certain specifications. If you decide to install your solar array by yourself, you may void the warranty.
However, if you install a solar array with Paradise Energy Solutions, not only will the manufacturer's warranty be valid, we also give you our Triple Ten Guarantee, which guarantees your system's performance and our workmanship and system monitoring for ten years.
It Will Take Much Longer Than You Were Expecting
You may think a solar array will take several hours to install or possibly a day or two. Unfortunately, there is a lot more complexity to installing a solar array than merely attaching solar panels to your roof,wiring them up and connecting them to your electrical panel. A solar installation sometimes takes months of working to get permits, working with the utility, getting an interconnection agreement and numerous other clerical items.
Fortunately, we have people dedicated to these specific jobs to make sure they get done as quickly as possible! Send us a message to explore your options.