There are several important components that need to be examined when looking at solar energy warranties. It's important that you're aware of what the equipment manufacturer is offering versus what your installation company offers. The two typically do vary, and you need to know the difference to make sure your solar investment is as safe as possible.
This blog will help you navigate through solar panel warranties and equip you with the questions you need to ask to make sure you get the best possible solar investment.
Solar Panel Manufacturer's Warranties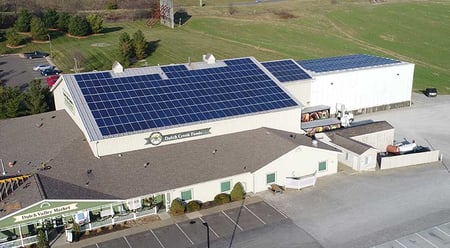 Performance Warranty
What it is:
Most solar panel manufacturers back their product with a linear performance warranty for 25 to 30 years. The linear performance warranty guarantees the performance of a panel will stay above a specified degradation rate (the decline in output that all solar panels experience). This assures you that the panel will continue to have the capability to produce a specified percentage of power during the warranty period. The panel brands that we carry guarantee the performance to be at 79-87% of the original performance at the end of the warranty period.
What it's not:
The manufacturer linear performance warranty does not guarantee a specific amount of solar production for your system, it guarantees that each panel has the ability to produce a certain amount of instantaneous power on its own.
Example:
Say your system was installed correctly and gets adequate sunlight, but the system's production is below the desired output. The underperformance is likely a result of a faulty solar panel. This is a scenario where your manufacturer's warranty would kick in.
Product Warranty
What it is:
Product warranties are in place to protect you from defects in material or workmanship issues during the manufacturing process. The manufacturer may choose to repair or replace the product at their discretion.
What it's not:
The manufacturer's product warranty does not cover the cost of labor to diagnose and or replace the equipment or the shipping costs to get replacements on site. However, some solar installation companies will cover this under their workmanship warranty.
Summary
Solar panels typically come with a 25 to 30 year

linear performance warranty

. This guarantees the panel production capability will not drop below a specified degradation percentage.

Solar panels will also come with a

product warranty

to protect you from a panel with a material or workmanship defect. Product warranties typically last for 15 to 25 years.
Solar Equipment Warranties to be Aware of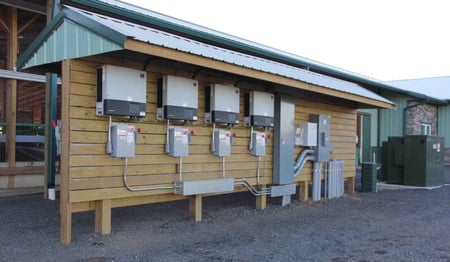 This blog's objective is to highlight the warranties on solar panels. However, each solar system has multiple components, and they all will have separate warranties from their manufacturer. The other components that typically come with a warranty are the inverters, batteries, and racking.
Most inverters come with a 10 to 25 year product warranty.

Batteries come with a 5 to 10 year warranty.

Racking comes with a 10 to 20 year warranty on workmanship and material defects.
Manufacturer Warranties vs. Solar Installer Guarantees
Some solar installation companies will offer additional warranties/guarantees in addition to what the product manufacturer offers. For example, Paradise Energy Solutions offers a Triple Ten Guarantee. The main component of this guarantee is the performance guarantee, which guarantees the total solar production of your system; whereas, the manufacturer warranty only guarantees the panel will have the capability to produce a specified amount of energy. This is a big difference.
Example:
Your panels are all functioning properly, but the system as a whole isn't producing as it should. This could be the result of poor installation, poor placement of the system, or abnormal weather conditions during that time frame. This scenario is likely when the performance guarantee from your installer would kick in.
What is the Triple Ten Guarantee from Paradise Energy?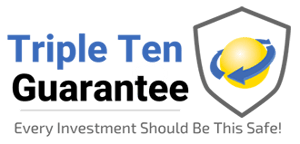 Our Triple Ten Guarantee gives you total peace of mind because your investment is backed by our money. If your system doesn't produce the amount of electricity promised, we will write you a check for the difference. We've purposely put our company in a position of responsibility for your system's performance so that you can be confident in your investment and know that you will get exactly what you paid for.
The Triple Ten Guarantee includes:
10 Year Performance Guarantee guarantees the total solar production of your system for the first 10 years. If your system does not produce the amount of electricity that we guaranteed, we send you a check for the difference in production.
10 Year Workmanship Guarantee covers any issues caused by our installation process, as well as labor to replace parts of the system that are covered under a warranty replacement from the manufacturer (These costs are not typically covered under the manufacturer's warranty).
10 Year System Monitoring helps us uncover any issues by monitoring the performance of the system remotely. This helps us quickly find and fix anything that is not functioning properly.
Click here to learn more about the Triple Ten Guarantee.
Conclusion
It's important that you know the difference between the manufacturer warranties and what your installation company is offering. Production warranties from the manufacturer back the panel's capability to produce energy. A performance guarantee, like the Triple Ten Guarantee from Paradise Energy, gives you the assurance that the total system output will be at the level specified in your solar proposal.
When reviewing your solar proposal with an installer, ask for the specifics of what they are offering.
What happens if my solar system doesn't produce the amount of energy specified in the proposal?

What happens if something would break? Who is responsible for the cost to replace the component?
Make sure your bases are covered and pick an installer that stands behind the product they are selling. Your solar investment deserves it!