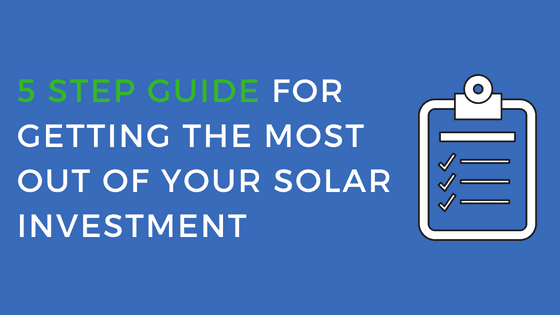 You've signed the contract and made the decision to invest in solar energy. Now, what happens? The process of going solar can be intimidating. We get it! But it's our mission to make it as easy as possible and to assure you get the most out of your investment.
To help with this, after signing the contract, we suggest you follow this 5-step guide to assure you're getting the best possible return on your solar investment from day 1 to year 30 and beyond.
Follow these 5 important steps to get the most out of your solar investment:
Insure your solar system
Verify that you have copies of all the necessary permits and paperwork
Understand your warranties, guarantees, and maintenance
Monitor your system production and your utility bill
Understand and manage your Solar Renewal Energy Certificates (SRECs)
1. Make Sure Your Solar System Is Properly Insured
Buying a solar system is a substantial investment that you'll want to insure from damage, theft or vandalism, acts of God, or other unforeseen circumstances that would prevent your solar system from working as expected and aren't covered by your typical warranties and guarantees. Once you have made the decision to purchase a solar system, you should contact your insurance agent and purchase adequate insurance coverage for the full replacement cost of your solar system.
Related Post
Do I Need Insurance For My Solar System?
2. Verify Your Documentation
When you purchase a turn-key solar system, your solar installation company is responsible for the design, engineering, permitting, and development of your solar system. All of these processes require documentation that you may need to reference in the future. Here's a list of documents that you should receive from your solar installer when your system is completed:
Your signed contract
Your paid invoices
Guarantee/Warranty information from the installer and equipment manufacturer
Utility interconnection application
Public Service Commission approval
One line electrical diagrams
System layout diagrams
Equipment spec sheets
Approved electrical certificate
Contact information for service work
3. Understand Your Warranties, Guarantees, and Maintenance
Warranties and Guarantees
Most of the components of your solar system come with manufacturer warranties ranging from 10 years to 30 years. The warranty information for those components should be included in the spec sheets that you receive from your solar installer. In addition to the manufacturer warranties, your solar installer should also provide a workmanship warranty and a performance guarantee. At Paradise Energy Solutions we provide a 10-year workmanship warranty and a 10-year performance guarantee. Our 10-Year workmanship warranty covers all labor and the balance of system components not covered by manufacturer's warranties. This would further include all parts and labor, plus the cost of removing, shipping, and reinstalling or replacing the defective component(s). A system checkup will be performed on your 1,5, and 10-year anniversaries.
Our 10-year performance guarantee does just that; it guarantees the total kWh production of your solar array for the first 10 years. If your system does not produce what we say it will, we pay you for the shortfall at your electric rate! You should be mindful of conditions that would void your performance guarantee. Here are some reasons a performance guarantee would be deemed null and void:
If shade increases by a measurable amount
If system issues are not detected as a result of the lack of internet connection for any length of time
If the solar system is turned off or disconnected, at no fault of the system, for any length of time
Excessive soiling of the solar array(s)
Maintenance
Solar systems have no moving parts and require little maintenance. However, we suggest every solar system should be checked by a qualified solar professional bi-annually to assure the long-term, reliable operation of your system.
Bi-annual checks should include a visual only inspection to check for any wear due to the wind, rain, and other weather elements.
The photovoltaic (PV) array may only require periodic cleaning depending on local conditions. Arrays with a tilt angle less than 20° may require frequent cleaning.
Dust, if allowed to accumulate, can reduce the power output of the solar panel(s).
Note: We strongly discourage climbing or working on your roof without approved safety equipment.
Related Post
4 Reasons Your Solar System Could Need Maintenance
Inspections
Inspections should be conducted at year's 1, 5, and 10. They should include the tightening of all electrical and mechanical connections even if they appear sound. This inspection should be performed by a qualified solar professional. At Paradise Energy Solutions, these inspections are included as a part of the signed contract and will be provided free of charge.
Emergencies
In case of an emergency, turn the AC disconnect switch to the off position. Make sure you know how to do this in advance of an emergency. This should be part of your final walk-through with your project manager after the system installation is complete.
4. Monitor Your System's Performance
Are you getting what you paid for? The only way to be sure is to monitor both your utility bill and the performance of your solar system. In addition to the solar (PV) meter that was installed to track the production of your solar system, you should receive login credentials from your installer to monitor your system on your computer, tablet, and phone. Make sure you know the monitoring website address, and your monitoring website username and password. Monitoring your system on a regular basis not only lets you know if there's an issue that needs to be resolved, but it also allows you to compare your production with your utility bill to verify that you are being compensated for your production.
5. Understand How Your Solar Renewable Energy Certificates Work
Solar Renewable Energy Certificate (SREC) is a solar renewable energy credit. It represents the environmental benefits of producing one megawatt-hour of electricity using renewable solar technology. The price of SRECs fluctuates with market supply and demand.
Utility Companies are required by Federal law to purchase a specified amount of energy credits each year. Some states, however, do not have SREC markets, and some states offer limited selling options. Talk to your local solar consultant to figure out the most advantageous approach to this potential revenue stream.
Each solar system will need to be registered with the state and with a tracking/ reporting agency administered by PJM EIS. This entity is known as the Generation Attribute Tracking System (GATS) validates the energy generated and certifies each credit for sale.
Paradise Energy Solutions offers to represent our customers in the energy exchange market if they so choose. Our selling process attempts to relieve your headache of finding buyers for your energy credits.
Do you have questions about your solar system?
Give us a call at 877-851-9269 or send us a message. We are happy to answer any questions you may have about solar energy.